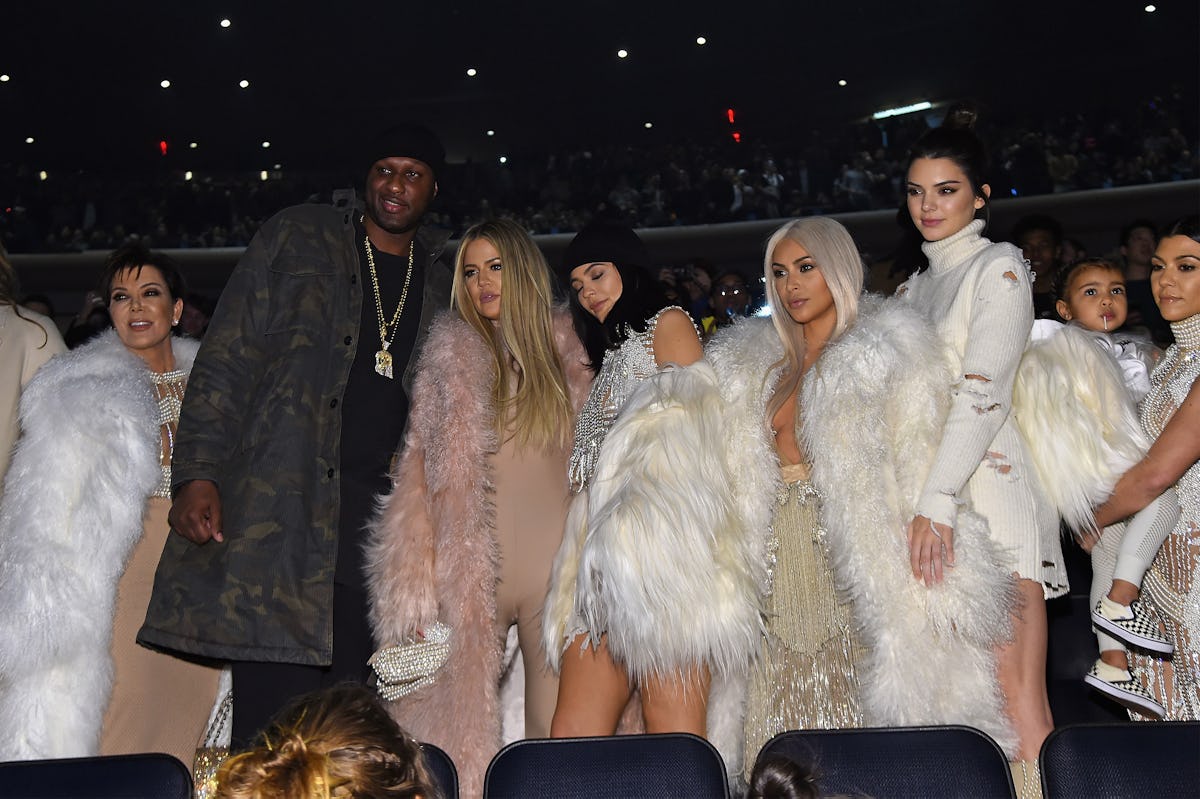 Every Kardashian Wears Denim In The Christmas Card, But The Brand Will Shock You
Jamie McCarthy/Getty Images Entertainment/Getty Images
The Kardashian/Jenner Christmas card is the gift that keeps on giving. It grows bigger and better with each passing yuletide, and 2017's iteration is no exception. This year, the brood brandishes some seriously cute denim, and naturally, everyone is wondering about the jeans the Kardashians wear in their Christmas card. The casual blue jeans and white tank top outfits seem very low-key and wearable, for even a non-Kardashian/Jenner.
If you're wondering what exactly is so "bigger and better" about this year's dressed-down Kardashian card, it's the fact that it's not really a Christmas card at all. The family, mainly the eldest sisters, have taken to posting an advent calendar-style countdown of 25 (yes, 25) photos, practically gluing fans to their Twitter feeds. One photo a day is posted on social media, usually by Kim and Kourtney, and so far, they've predominantly featured the youngest generation of Kardashian offspring — in birth order: Mason, Penelope, North, Reign, and Saint, because I just happen to know that.
I'm distracted by their overwhelming cuteness, but also by the fact that the youngins and the rest of the family are all wearing simple jeans and white tees. That's right, the family that is known for wearing some of the most expensive and extravagant outfits possible is peeling back the facade, and showing off their more relatable side. Keep reading to find out exactly what jeans they are wearing, and how you can snag a pair for your own last-minute recreation.
Day One
Day one of the Kardashian bonanza was an innocent photo of Kim Kardashian's soon-to-be middle child, Saint West. Not much to see, yet, but it laid the groundwork for my future sleuthing.
Day Two
Sticking with the theme so far, day two featured Kim's eldest, North West. This is where the jean theme started to pick up — Kim and Kourtney are in the background wearing the same style.
Day Four
Day four made it clear that there is definitely a denim trend happening. And you know who makes jeans? Khloe Kardashian! Could they be Khloe's brand, Good American? Would the family ever pass up an opportunity for self-promotion? I bet Kris Jenner would frown upon that.
Day Eight
Fast forward to day eight, and Saint West's little tush officially confirms his first Kardashian family rumor - those are, in fact, not Good American jeans, but Levi's.
Day Ten
Penelope Disick stands alongside Saint's declaration.
Day 12
Kendall Jenner makes her first appearance on day 12, and to the surprise of no one, also wears denim pants.
Day 13
Today's post by Kim reveals the biggest chunk of the pictorial mystery yet. Kim wears the jeans! Kris wears the jeans! Khloe wears the jeans! Everybody wears the jeans!
Wait, something looks familiar about this...
For 2006's holiday card, the family did the same theme. Denim aside, my how times have changed. They've done some pretty elaborate photos in the past, but I guess they've decided to go the more modest route once more.
I reached out to the Levi's team to get the scoop on the Kardash/Jenner jeans, and of course, the fam isn't wearing your standard off-the rack Levi's. Instead, they're sporting the newest collection of Levi's Authorized Vintage. These reclaimed (aka pre-worn pairs that have been jazzed up) vintage pieces are only available in a few select Levi's stores in the country. You, however, my dear readers, can get very similar jeans from the same brand, and get one step closer to being mistaken for a Kardashian/Jenner on the street.
Levi's 501® Skinny Jeans in Old Hangouts
($98; bloomingdales.com)
For Kim's look, try these high-rise, light-wash, ripped jeans.
Levi's 501 Tapered Jeans in So Called Life
($98; shopbop.com)
If you dig Kourtney's vibes, this pair is more low-rise.
Levi's 501® Selvedge Skinny Jeans in Summer Dune
($148; bloomingdales.com)
Get mistaken for Kendall Jenner in this form-fitting, high-rise pair.
Levi's Ex Boyfriend Trucker Jacket in Arctic Bleach
($89; shopbop.com)
If you want to rock a jean jacket like North West did on day four and on day eight, this one will have you looking almost as fly as she does.
Well folks, there you have it. Get ready to rock denim Kardash-style this holiday season. And considering there are 12 more days of Kardashian Kristmas Kards to go, I have a hunch they'll feature more members of the famous family (Kylie, where are you??), and maybe even shoutout Khloe's own line of blues.