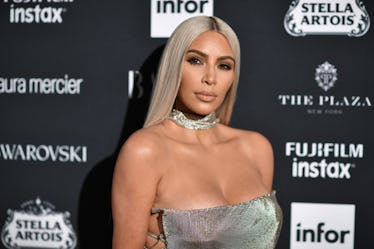 Kim K Is Sharing A Family Holiday Photo Every Day & The First Pic Is So Adorable
Dimitrios Kambouris/Getty Images Entertainment/Getty Images
My favorite part of the holiday season is probably the one thing that most people actually dread: sending out Christmas cards. I carefully select my card and find the ~perfect~ holiday postage, making sure that it's one cohesive, beautifully-presented piece of mail that awaits my friends and family in their mailbox, only to be opened and most likely thrown in the garbage. Too bad! I love it and will continue to do it, holiday Grinches be damned. So when celebrities share a little piece of holiday cheer by posting their holiday photos, my inner Elf goes kind of ballistic. And this year, we were all given quite a treat, because the first day of Kim Kardashian's 25 Days of Christmas photo shoot was posted to her social media, and my tinsel-tangled heart can't even deal.
Though it's not *technically* her holiday card, it might as well be. Kim K took to Twitter, sharing what looks like an itty-bitty portion of a much larger picture. But that lil' cropped picture is more than I could ever even want in a full picture: a half of a Christmas tree, alongside a TEENY TINY SAINT WEST surrounded by Christmas presents that are much, much larger than him:
Take a look at that tiny human!
*Heart explodes into a million jolly pieces*
But hey, isn't there another Kardashian/West who should be involved? A little someone named North?
And what about Kim and Kanye? Surely they've gotta be in the photo, too. Maybe behind the half-tree?
If you see Kardashian's post, you'll see that she wrote, "25 DAYS OF CHRISTMAS BY @ELIRUSSELLLINNETZ STARTING TODAY...", meaning that it looks like we have 24 more days of photos that will make up the most epic Christmas photo shoot that this world could ever ask for.
Twitter backed up this prediction, clearly game for three-plus week's worth of very merry Kardashian Khristmas photos:
And it's not like Kim is a total stranger to holiday cards. The Kardashian/Jenner krew has been basically dishing out Christmas cheer for decades, with Christmas photos that date back to the late '80s and the early '90s, where you'll see phenomenal portraits of the crew looking badass with a Harley Davidson backdrop and matching leather jackets — but if that's not your thing, there's also a throwback photo of the family surrounding a Teenage Mutant Ninja Turtles Santa, so, you know, you're welcome.
In recent years, the family has settled on a more, erm, refined style:
This is straight-up cut from a Vogue magazine, is it not?
And we can't forget this simply understated portrait of all the little ones in the Kardashian family (that were actually born at the time of the card):
So, yeah, Kim is basically a pro at spreading holiday cheer at this point.
If only Kardashian's Baby #3 arrived any sooner, then she could have been incorporated into the photo as well! Maybe before the 25 days are up? You never know!
Some people might think it's a wacky idea to show the world holiday photos for an entire month straight, but I say GIRL, that's a fantastic idea, because now, every day, we can hopefully become graced with the presence of another Kardashian member in this shoot. I don't know about you, but it *might* be a fun idea to print out the photos, then connect them all like a puzzle. No? Just me?
Now, if you'll all please excuse me, I think I've found what I'll be doing for the next 24 days until Christmas arrives: drinking hot chocolate (maybe spiked with something, maybe not), watching Elf on repeat while simultaneously listening to Christmas Carols, and putting together my Kardashian Khristmas puzzle. 'Tis the season!