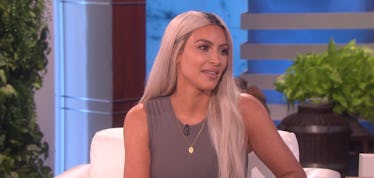 Here's Everything To Know About Kim Kardashian's Baby #3 Before She Arrives
YouTube
We're closing in on the due date of Kim Kardashian and Kanye West's third baby that they're having via surrogate, and the crowd is getting restless. We've all been waiting for any news surrounding the growing royal family, and just when we think we're going to get some details from Kim herself, we're dead wrong. The name of Kim Kardashian's new baby is still up in the air, but luckily, that's why we're here. Kim, let us help.
Update: On Jan. 19, Kim announced that the baby's name is Chicago West.
Earlier: Kardashian dropped by her good friend Ellen DeGeneres' show in mid-November to discuss the details of her third child and mull over some name options. Kardashian revealed it took her and Kanye four days to come up with their son Saint's name after he was born, so the pressure is on. She told DeGeneres, "We're freaking out. We have no name."
Kardashian did give us a little more insider info when she accidentally let it slip that the couple is expecting a baby girl. She casually told DeGeneres,
My daughter [North West] thinks she's really tricky. We had a baby shower over the weekend. I thought, 'I really do want to have a baby shower because I want her to feel that something's coming and for her to really understand it.' People brought toys and gifts. She was opening them all up the next day and she said, 'Mom, Baby Sister's not here. I think I need all of her toys in my room. I'll play with them and just make sure they're OK for Baby Sister.'
"BABY SISTER," WORLD! YOU HEAR THAT?! This definitely helps narrow down the name search. In fact, Kardashian explained she even asked all of the guests who attended her baby shower to write down some name options just in case anything stood out. Unfortunately, nothing did.
Of course, DeGeneres had some ideas of her own. She whipped out her very own baby-name-generator tool, and paired a few great options with the last name "West."
"Lip-Kit West," "Pop West," "West West," and "Star West" were all a hard pass from Kardashian, though she admitted her daughter North woud like the last one. She said,
I'm not going to name her Star, but my daughter picks that name all the time. ... She got a toy and it's a llama — "Baby Sister's" toy that she took — and I said, 'Well, OK, what do you want to name the llama?' She said, 'Star— Star West!' So, she names everything Star West.' I'm not vibing on it.
If Kim Kardashian isn't vibing it, then I HATE IT, FOR SURE.
However, DeGeneres was on to something. Kardashian did say,
I do like different name[s] — but short, easy to spell, one syllable... That's kind of my vibe.
OK, OK, OK. Twitter, help us out.
One guy suggested "Wild West," which definitely follows the formula of different + short + easy to spell.
Another Twitter user said Kardashian could name her daughter "Kim Junior" and call her KJ for short.
One person thought she should run with her KKW Fragrance theme and name the baby "Krystal," while another person suggested "Zen."
But most people just couldn't help themselves and kept dishing out the word puns... we had to get one "Key West" in there.
And of course, at least one geographical direction shout out:
For a brief moment, Kim and Ellen pondered over the idea of naming the third baby "Tre," as in the number three, but that too seemed to be a fleeting idea.
We know one thing is for sure: Whatever Kimye decides to name their bundle of joy, Twitter will have something to say about it.
Check out the entire Gen Why series and other videos on Facebook and the Bustle app across Apple TV, Roku, and Amazon Fire TV.