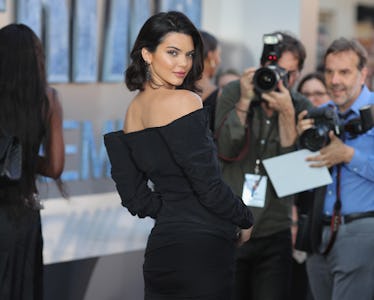 Kendall Jenner & Rihanna Wore Glitter Boots That Cost More Than Your Entire Wardrobe
Neilson Barnard/Getty Images Entertainment/Getty Images
The Kardashians are known for being extravagant, but Kendall Jenner may have just taken it to a new level. To be fair, she was only following in Rihanna's very sparkly footsteps. While I'm over here re-heating the same leftovers for the third day in a row, Kendall Jenner and Rihanna wore glitter boots that cost $10,000.
No, that was not a typo. Those disco ball boots, from elite design house Saint Laurent, cost a whopping $10,000. To put that in perspective, think about what you can buy with that amount of dough: a year's worth of rent (in some cities), a lifetime's worth of Netflix (104 years to be exact), over 1,200 avocado toasts, about 100 pairs of regular boots. The list is literally endless. Celebrities rarely do anything in moderation though so I hope you're not that surprised at all this.
The show-stopping footwear is so exceptionally shiny due to the 6,000 rhinestones that create an IRL Kirakira effect. They debuted on the Saint Laurent runway during Paris Fashion Week in March 2017, and have been destined for Instagram greatness ever since. Millennial-to-beat Kendall Jenner wore the head-turning boots most recently, and my desire to be adopted by Kris Jenner has only grown stronger.
Jenner sported the boots, and not much else, to her 22nd birthday party on Nov. 2. Between that epic footwear and her very cropped, sliver of a top, I bet she made quite an entrance.
Jenner next wore the boots only two days later on Nov. 4 to a Los Angeles Clippers game to cheer on her rumored bae, Blake Griffin. I hope she didn't distract him from the game too much in those boots. If someone spends that much on a pair of shoes, though, she better at least get some good use out of them.
Jenner actually first introduced the world to her pricey boots with a mesmerizing Instagram video showing off their gleam. I honestly can't look away.
As I too often forget, the world doesn't revolve around the Kardashian-Jenners. While Kendall Jenner only recently got her hands on a pair of these swoon-worthy shoes, Rihanna first rocked them in March of this year. The singer/fashion designer/Fenty cosmetics owner/all around boss b*tch wore her pair "phresh out da runway" after Paris Fashion Week.
The stunners caught Rihanna's eye while they were still on the runway.
And she hasn't stopped stomping around in them since.
But the bustle for these boots doesn't even stop at Jenner and RiRi.
Never one to not be in the spotlight, Real Housewives of Atlanta star Nene Leakes showed up to a taping of Watch What Happens Live looking like she was dipped in a vat of rhinestones.
These are legit the most Insta-worthy shoes I have ever seen.
If you're on Kendall, Rihanna, and Nene's level and can shell out the money for the real deal, more power to you. Although consider taking out a new insurance policy on them. On the off chance that you can't afford a five figure price tag for a pair of shoes, and you're picking up on my sarcasm, check out some similar styles below that us mere mortals can afford.
This Steve Madden pair is practically a doppelgänger for the YSL set. At almost $300, though, they're still not totally affordable for the average 20-something. Yup, Rihanna is still in her 20s, meditate on that.
Ironically, Kendall and Kylie's own clothing brand sells a sequined, silver bootie. Their offering is not quite as conspicuous as the Parisian-designed pair the elder Jenner sis wore, but these will get you one step closer to the famous family.
Third time's the charm. These Nasty Gal boots have the shine factor and the slouchy style of the celeb-favored pair, but they won't require you to open a new credit card account just to be able to pay for them.
And if you don't want to splurge for a pair of blindingly bright boots at all, you can just apply Kirakira filters over your ole brown pair and marvel at your ingenuity.