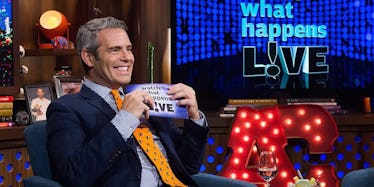 Andy Cohen Reveals The Person He's Dying To Get On "Watch What Happens Live"
Bravo
If you don't live in a stupid cave at the bottom of the ocean, you've probably caught wind of Andy Cohen and one of his many, MANY projects.
Previous head of development at Bravo TV and current executive producer of the wildly popular "Real Housewives" franchise, Cohen wears many creative hats including radio host, author and producer, as well as the late-night television host of his own hit show, "Watch What Happens Live with Andy Cohen" ("WWHL").
On "WWHL," Cohen brings on talent from all corners of the entertainment industry to gossip, play games and drink-drink-drink, in his cool, albeit small, clubhouse studio.
Watching his show is like watching someone you feel like you've known forever hang out with crazy famous people every night.
Through all of his professional endeavors, Andy has bumped elbows with, well, a few celebrities in his day.
"WWHL" has seen the likes of super celebs like Oprah Winfrey, Cher and Jennifer Lawrence as well as new talent just breaking onto the scene. However, the most awesome part about Andy Cohen is how he somehow manages to connect with everyone, regardless of their status or success.
When asked how he finds common ground with everyone who graces the clubhouses's seats with their perfect expensive bums, Andy responded, "I think I'm just kind of a biggest fan. Ya know? I'm just a fan and I feel like they know that." 
So, who is the one person Andy geeks out over but he hasn't been able to interview yet?
"Well...," he mused, "Michelle Obama."
I mean. Duh.
Of course, she's been a little busy over the past eight years running the country and all, but Andy is hopeful she may be more available now that things have, um, slowed down for the Barack family?
He said, "I'm hoping that now that she's out of office... maybe when her book comes out she'll come on."
Fingers all the way crossed, Andy!
In the meantime, he keeps up his insane schedule of running an incredible television series, being BFFs with Sarah Jessica Parker and walking his (almost as famous) dog, Wacha.
He told Elite Daily,
Every day is pretty much different... I'm either doing something with my radio channel, or 'WWHL' or the 'Housewives' or working out. I've got like eight jobs so there really is no average day.
Why Andy, we're glad you mentioned working out, because speaking of... the dude is jacked.
However, that pressure of the limelight doesn't stop him from indulging.
Thanks to the first day of spring and National Pi Day, Andy linked up with Marie Callender's pies and 10Below Ice Cream in NYC to create his very own specialty ice cream.
Andy said,
It's chocolate chip cookie dough pie with English breakfast tea ice cream infused in it. It's really good, I love tea and cookies so it's the perfect combination.
Weirdly, for someone running a million miles a minute, he's not a coffee guy.
The scheduled Pi Day celebration was delayed due to a severe snow storm that hit on ACTUAL Pi Day, which was March 14, so today, March 20, is the day local New Yorkers can swing by 10Below in the East Village and scoop up the limited-edition, pie-infused ice cream between 1 pm and 7 pm for free.
When asked how he was doing during the blizzard at the top of the interview, he responded, "Good! It's Pi Day so I'm happy."
Ugh, what logic. What genius.
Fingers crossed we see Michelle Obama grace the "WWHL" clubhouse this upcoming season and Happy Pi Day to all, and to all a pie night!