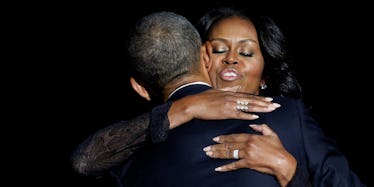 Andy Cohen Got Obama To Reveal His Secret Date Night Activity With Michelle
Reuters
By now, America and the wider world knows Barack Obama really, really well.
The POTUS has given so many personal addresses over his eight years in office that it's easy to picture him as your buddy, golf partner or that cool uncle you only get to hang out with on the holidays.
And even though his presidency is coming to an end, we're still learning some juicy details about the man himself -- like how he spends date night with Michelle.
It was revealed during a fancy fundraising dinner back in 2012 - and Andy Cohen is the man we need to thank for bringing this absolutely vital piece of information into the world.
The talk show host invited Obama to play Plead the Fifth, a game on his show "Watch What Happens Live" where guests are asked three personal questions - but they can plead the fifth and refuse to answer one of the three.
Reminiscing about what must have been a super fun night, Cohen posted this photo on Instagram of him questioning the prez while the first lady and Sarah Jessica Parker watch.
A guest at the dinner revealed all three questions asked by Cohen to The Daily Beast.
Cohen's first question was,
What's your best perk? You know, like having beers with Hillary Clinton or being able to call any person in the world in the middle of the night?
It wasn't either of those things. According to Obama, it was spending date night with Michelle on the White House's Truman Balcony, looking out over DC.
Of course.
Like, why would anyone be even slightly surprised by this revelation? It's abundantly clear Obama is a hopeless romantic.
Just LOOK at the way he dreamily gazes at Michelle.
Straight up couple goals.
It was Cohen's second question that caused Obama to plead the fifth and get the hell out of there.
Obama was asked which of Michelle's outfits he doesn't like, and why. He wanted no part of that. Smart man.
Finally, Obama was asked which embarrassing music he plays on the radio - but as we know, the man's music taste is straight up fire.
Instead, he said nothing he plays embarrasses him, and he often enjoys listening to Stevie Wonder and The Rolling Stones in the car.
Citations: How Bravo's Andy Cohen Made Obama Plead the Fifth on Michelle's Outfit (Daily Beast)