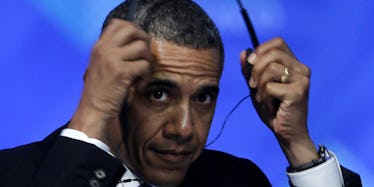 Obama Could Be A DJ When He's Done As POTUS Thanks To Job Offer From Spotify
REUTERS
Spotify just put out a job ad for "president of playlists,"  a position that will oversee the company's "music curation and playlists team" in its offices across the world.
It sounds like an amazing opportunity.
But, based on the qualifications or experience Spotify is looking for from applicants, it definitely wants to hire President Obama.
Let's run down the list of Spotify's desired traits for this position, and you'll see what I mean.
1. "Have at least eight years experience running a highly-regarded nation."
Yep, Obama has definitely run a "highly-regarded nation" for the past eight years.
Although, the nation might not be so "highly-regarded" after January 20, but that's another issue altogether...
2. "Familiar with the Spotify platform, with experience in programming playlists at a federal level. Anything from an eclectic summer playlist, to a celebratory, 'I just found my birth certificate' playlist."
Obama, who has come up with some killer Spotify playlists in the past (including a dope summer playlist), definitely qualifies in this regard, too.
But I'm not sure what would be on the "I just found my birth certificate" playlist. Perhaps the opening song from "The Lion King," as the president once played for his esteemed successor?
Just a suggestion...
3. "Have good relationships with a wide range of artists and musicians. Ever had Kendrick Lamar play at your birthday bash? We'd love to hear about it!"
Given President Obama just threw a huge bash at the White House attended by tons celebrities, included an array of talented musicians — and the fact he is definitely pals with Kendrick Lamar — this sounds right up his alley as well!
4. "Someone with good team spirit, excellent work ethic, a friendly and warm attitude and a Nobel Peace Prize."
Obama is known for the slogan "Yes we can," so it's safe to say he's a team player.
And even if you don't like his politics, you can't say he doesn't have a good work ethic.
He's also definitely a friendly and warm guy, who has been known to sing in public on occasion.
And, to top it all off, it just so happens that he has a Nobel Peace Prize!
Yeah, Spotify is definitely trying to bank-in on the fact Obama is almost out of office, and who can blame the company?
To be honest, this could be the perfect career change for Obama.
It would certainly be a lot less stressful than the White House.
Citations: President of Playlists (Spotify), Spotify Wants to Hire Obama (New York Magazine)