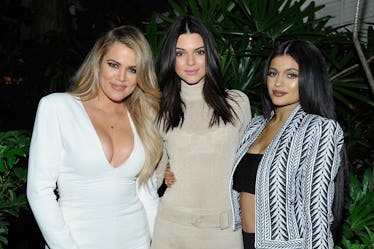 How Kylie & Khloe Celebrated Kendall's Birthday Could Be A Clue That They're Pregnant
John Sciulli/Getty Images Entertainment/Getty Images
Whenever one of the Kardashian-Jenner crew celebrates a birthday, the family tends to go all out. Kendall Jenner turned 22 years old this week, and a birthday dinner soirée was definitely in order. While many of Kendall's friends and family showed up to celebrate, there were a couple of noticeable absences. Kylie & Khloe skipped Kendall Jenner's birthday party, and some people are taking this as the clue they needed about their respective alleged pregnancies.
According to TMZ, Kendall celebrated her birthday, which is Nov. 3, on Thursday night in Los Angeles this week. Kendall's party crew included her sister, Kim, and Kim's husband, Kanye; her mom, Kris Jenner; her sister, Kourtney, and Kourtney's rumored boyfriend, Younes Bendjima; Kendall's dad, Catilyn Jenner, was also in attendance. Now, that does sounds like a lot of people (and the recipe for a fabulous dinner out), but the Kardashian-Jenners are one big family, so immediately, people noticed that Khloe Kardashian and Kylie Jenner were nowhere to be found to watch Kendall blow out the 22 candles on her birthday cake.
According to People, the guest list for Kendall's birthday dinner at the Petite Taqueria in West Hollywood was limited to just under 50 people. Given the small crowd, it was easy to notice Khloe and Kylie's absence. TMZ reports that, since both Khloe and Kylie are allegedly pregnant, it isn't surprising that they wouldn't show up for a big night out in West Hollywood. The website also reports that since the news of the alleged pregnancies, both sisters have been keeping a low profile.
Notable absences were not the only things eagle-eyed Kardashian-Jenner fans noticed. Also in attendance at the dinner was Los Angeles Clippers basketball player Blake Griffin, who just happens to be Kendall's rumored boyfriend, People reports. One of Kendall's best gal pals showed up to celebrate the model's birthday as well. People reports that Hailey Baldwin showed up to support her bestie, and Baldwin also gave a speech to make sure the birthday girl was celebrated to fullest extent.
It sounds like Khloe and Kylie really missed out on a good time, because People reports that Kendall's party was decorated with a Dia De Los Muertos theme, and the night ended with breaking open a piñata, of course — I'm guessing my invite just went to spam, or something.
Even though Khloe and Kylie weren't there in person to celebrate Kendall on Thursday night, the sisters made sure to take to social media on Nov. 3 to wish Kendall the happiest of birthdays.
Khloe captioned her Instagram post with,
Happy Birthday Sister!!! I don't think anyone could ever understand our bond. The things we have all been through together and we are closer than ever!! I'm so thankful we all have each other! God blessed us with one another. I am so proud of the woman that you have become! You inspire me daily! From your sweet nature to that runway walk to your bad ass DJ skills! You are a Jack of all trades! Cheers to my soulmate and best friend in this lifetime and in our afterlife! Happy birthday sweet @kendalljenner
OK, that might be the sweetest post, like, ever. If you've ever seen Keeping Up With The Kardashians, then you know they are a pretty tight-knit family, and I just don't think that one missed birthday dinner is going to change that.
Kylie also made sure to give Kendall a shoutout on her special day. In a more low-key fashion, Kylie wished Kendall a happy birthday by sharing Kendall's tweet asking for fans to donate to a charity that appears to be close to her heart.
It may not be as verbose as flowery as Khloe's post, but hey, to each their own.
So, now that Kendall has officially celebrated her birthday, it's time to keep your eyes peeled on social media for any and all things relating to Khloe and Kylie allegedly being pregnant. Happy Snapchat snooping!
Check out the entire Gen Why series and other videos on Facebook and the Bustle app across Apple TV, Roku, and Amazon Fire TV.