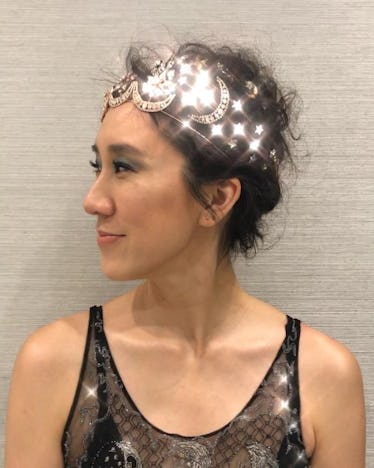 Celebs Are Obsessing Over This Glittery Photo App & It's So Perfect For The Holidays
Instagram / @evachen212
If you've perused Instagram lately, chances are, there's one question on your mind: What is Kirakira? The app, which cloaks any photo or video with animated sparkle, is seeing action from celebrities such as Rosie Huntington-Whiteley, Karlie Kloss, and Lily Aldridge, and it will make all of your glittery dreams come true. Whether you want to shine bright like a diamond, feel like a sparkly Disney princess, or just really feel yourself in head-to-toe shine, anyone with a deep-seeded dream to dazzle is going to love this app.
Kirakira went viral during this season's Fashion Week when It-girls, such as Victoria's Secret's Elsa Hosk and Instagram's Eva Chen, started using it to bring a big dose of shine to their social media posts. If you haven't seen them yet, the results are undeniably captivating and will make your jaw drop to the floor.
Thanks to Kirakira, you no longer have to bathe yourself in pools of glitter to get an other-worldly effect, which is amazing because if you've ever worn glitter, you know it's practically impossible to remove. Now, you can simply swipe through the app's different settings and intensities to get the glam, celeb-level results. Phew, glitter crisis averted.
As you can see, Kirakira offers capabilities to tailor the sparkle factor to suit your specific outfit or makeup, which makes it just so addictively fun.
Even if you don't own a head-to-toe glittery outfit, the app can still take your selfies to the next level. Say for example, a picture of your shiny new manicure, or one of the sea during your next vacation.
You see what I mean?
After I saw all the possibilities, I immediately went to download Kirakira. I played around for a bit, and must conclude that it works better on regular photos rather than selfies. And as for makeup, I gave Kirakira a test run and found that no matter how much highlighter I applied (and I put on enough to make RuPaul blush), the app didn't make my cheekbones a blinding hazard. However, it did grab twinkles from my eyes and teeth, and also made my earrings and necklace pop.
The app has six different settings: Kirakira, Twinkle, Airy, Color, Shine, Bling-bling, and Glare. Each one gives you the option of using choosing the intensity of the shine, from subtle to out of this world (in the best way, of course). After checking them all out, I found that Airy gives you an airbrushed, magazine look, Kirakira is best for the traditional pop of shine, and Color makes you feel like a human disco ball. All great things.
The only one I would never use for a selfie is the Shine setting, since I have a few blemishes and this setting really brings them out, like reallllllllly tries to coerce them out of hiding. However, if you switch the camera to face away from you, or are lucky enough to have a flawless complexion, it gives off a cool retro-y vibe.
Overall, Kirakira does a fantastic job of bringing any picture to the next level, rendering it extremely extra. Sure, the app made its way to the filter wall of fame during Fashion Week, but if the backstage footage was in any way a nod to the future, I have a feeling that it's going to be a favorite for a while, and absolutely everywhere during the holidays.
Seriously, imagine wearing a tacky Christmas sweater but adding Kirakira to your picture? Suddenly, you're not so tacky. And if you want to rock sparkly holiday makeup, Kirakira will showcase it to the max. 'Tis the season to immortalize your Instas, and make 'em shimmer against others on your feed.