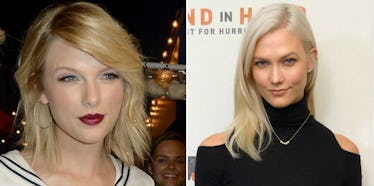 Taylor Swift And Karlie Kloss Are "Doing Well" As Friends But We're Not Convinced
Getty Images/ Gustavo Caballero, Roy Rochlin
Few duos have the same tallness and blondeness as Taylor Swift and Karlie Kloss. These two go way back — I think we all remember their epic strut together down the Victoria's Secret Fashion Show catwalk in 2014. Amazing. However, these two have not been seen out in public together in forever, and we're concerned. Fans are wondering: Are Taylor Swift and Karlie Kloss still friends? Valid question. Swift and Kloss went from being attached at the hip to practically strangers.
Questions have popped up about their friendship for a few reasons. First, because why the hell aren't these two grabbing Shake Shack together or something? Second, Swift and Kloss haven't been photographed doing anything together. Did they get sick of each other's general coolness? I JUST DON'T KNOW. A source from E! News cleared up some things,
Taylor and Karlie are doing well as friends. They had NO falling out what so ever. They still speak but have been slammed with crazy schedules on both sides. Karlie had many prior commitments — that's why she was not involved in a few of Taylor's music projects like she was last year. They are still good friends though.
While that seems like good news, I'm not fully convinced. Yes, Swift has been conspicuously out of the public eye for the past year — even after releasing "Look What You Made Me Do" and "...Ready For It." However, in the process of releasing Reputation, Swift has raised a lot of eyebrows about her supposed girl squad, including Karlie Kloss.
Let's start with the "Look What You Made Me Do" music video. It was sprinkled with little nuggets of shade at former squad members. In the video, Swift can be seen wearing a similar get-up as she did in her "You Belong With Me" music video — a white tee, black-rimmed glasses, and her signature "surprise" face. However, the shirt is not covered with names of random people, but the names of her close friends. Selena Gomez, Gigi Hadid, the Haim sisters, Blake Lively, Ryan Reynolds, Lena Dunham, Ed Sheeran, Patrick Stewart, Abigail Anderson, Martha Hunt, Claire Kislinger, and Todrick Hall are all on there.
Who is Todrick Hall and how did he earn a place on Swift's coveted shirt over Kloss? He is one of Swift's backup dancers who was sworn to secrecy while filming "LWYMMD." He opened up to Entertainment Tonight about just how secretive Swift was while creating the project:
We became BFFs, and then she called and said, 'I'm working on this project that's super secret but I know I can trust you. Will you not tell anyone?' And I didn't tell anyone. It was the best! It felt like Christmas came early because when it came out my phone blew up more than it ever has before. Everybody was freaking out about it. It's such an epic and iconic video to be a part of. I think it was shot in May. And it was a huge secret to keep and it was very difficult … It speaks volume of what type of person Taylor is, that she could have all those people on set and then it not leak.
OK, so that is BFF-level secrecy. Nicely played, Todrick. Even more awkward, most of the squad members DGAF when the "LWYMMD" music video was released. Kloss, Selena Gomez, and Gigi Hadid all remained mysteriously quiet about the huge news. WHAT THE HELL IS GOING ON?
Rumors of a rocky friendship between Kloss and Swift have been mulling around for months. After Kloss posted a picture with Kendall Jenner on Snapchat, people were convinced Swift was out of the picture.
Although Swift and Jenner run with the same people, Kenny is a Kardashian to her core. This means she probably sided with Kim and Kanye during the "Famous" debacle. This doesn't mean Kloss and Swift aren't friends — Kloss probably doesn't get tangled up in the drama.
If Kloss and Swift are indeed still friends — IT DOESN'T HURT TO SHOW IT ONCE IN A WHILE. Hopefully, their lives slow down a bit so they can make some time for each other. I'm really hoping for the best with these besties, but it's not looking good from over here.
Check out the entire Gen Why series and other videos on Facebook and the Bustle app across Apple TV, Roku, and Amazon Fire TV.