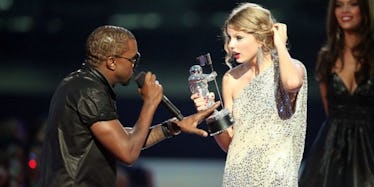 4 Creative Taylor Swift And Kanye West Costumes To Win Halloween This Year
Getty Images/ Christopher Polk
Walk through some of the most iconic pop-culture moments with Kanye West and Taylor Swift Halloween costumes. Honestly, there's no better feud to honor than Kanye and Tay. The two have been through so much together. Can Taylor Swift exist if there's no Kanye West to write songs about? Real philosophical stuff.
This feud has been happening since 2009. Luckily, the end of Taylor Swift's "Look What You Made Me Do" music video reminded me of all the best highlights. I will return the favor to you with a short recap.
The feud started in 2009 at the MTV Video Music Awards. Tay Tay triumphantly took the stage to accept her award for Best Female Video for "You Belong With Me." This was a big deal because she beat out Beyoncé. Swift was doing her "I can't believe I won" speech when Kanye rushed the stage, grabbed the mic, and said: "Yo Taylor, I'm really happy for you, Imma let you finish, but Beyoncé has one of the best videos of all time." This was hands-down one of the best moments on television in my lifetime.
Smash cut to 2016 when Kanye released his song "Famous." A few lines of the song say,
I feel like me and Taylor might still have sex, Why? I made that b*tch famous
Understatement: Swift was not happy and wanted to be excluded from this narrative. She accused Kanye of using her name without her permission.
Just when everyone was mad at Kanye for being (seemingly) Kanye, the #KimExposedTaylorParty happened and it was amazing. Kanye's wife, Kim Kardashian, put a stop to everything when she released Snapchat videos of Kanye on the phone with Swift. The videos seemingly exonerated West of any wrong doing. SAVAGERY. From this point, National Snake Day was born on July 17, 2016.
Now, Swift has released "Look What You Made Me Do" on her newest album, Reputation, and THE SHADE IS SO REAL.
Needless to say, a lot has happened in-between these amazing moments. Any of these costume ideas would make for an epic Halloween. Here's how to pull off four of the best Kanye West and Taylor Swift moments.
1. The Infamous 2009 MTV Video Music Awards
This one may be my favorite. It's just so... iconic. Whoever chooses to be Taylor will need a sparkly wrap dress. Even some creative use of scarves could capture the look. This costume is all about the attitude, anyway. To pull off Kanye: wear a black button-down shirt, black vest, and black sunglasses (a must).
Finish the costume off with a microphone and VMA Moonman statue. Get creative with your award. My brothers and I once made the Stanley Cup out of tinfoil when we were kids — I have faith in you. Once again, it's all about how you present this costume. Every time Taylor starts talking, Kanye should run up and interrupt her. Amazing.
2. A Moment Of Friendship Between Swift And West
It wasn't always so bad between Tay and Kanye — remember? Only the most pop-culture savvy person would recognize this moment, and those are people you want in your squad. One person dress as simple as Swift in a grey sweater and black jeans. The other person dresses in their favorite Kanye look and carry around a giant white square of flowers. Honestly, do it for the Insta.
3. Strip Down As The "Famous" Music Video
This costume is not for the faint of heart. There's two ways to pull this off: Skin-colored body suit or swimsuit/shorts and crop top covered by homemade black sensor bars (made with a Sharpie and pieces of cardboard). Whatever works for the "naked look." If you're feeling particularly crafty, use a large piece of cardboard and white spray paint to create the "bed" behind Kanye and Swift.
4. Hiss, Hiss Bish For National Snake Day
This would be amazing to pull off with a third friend — Taylor Swift, Kanye West, and Kim Kardashian could all be together. Two people dress in their best Kim and Kanye ensembles — cell phones are required with this costume. As for the third person, wear your cutest Swifty look and pair with a snake mask. Yassss.
Whether you're a Swifty for life or adore Kanye West, these costumes will make for an unforgettable Halloween. Really, aren't we all looking for the Kanye to our Taylor? Happy feuding!