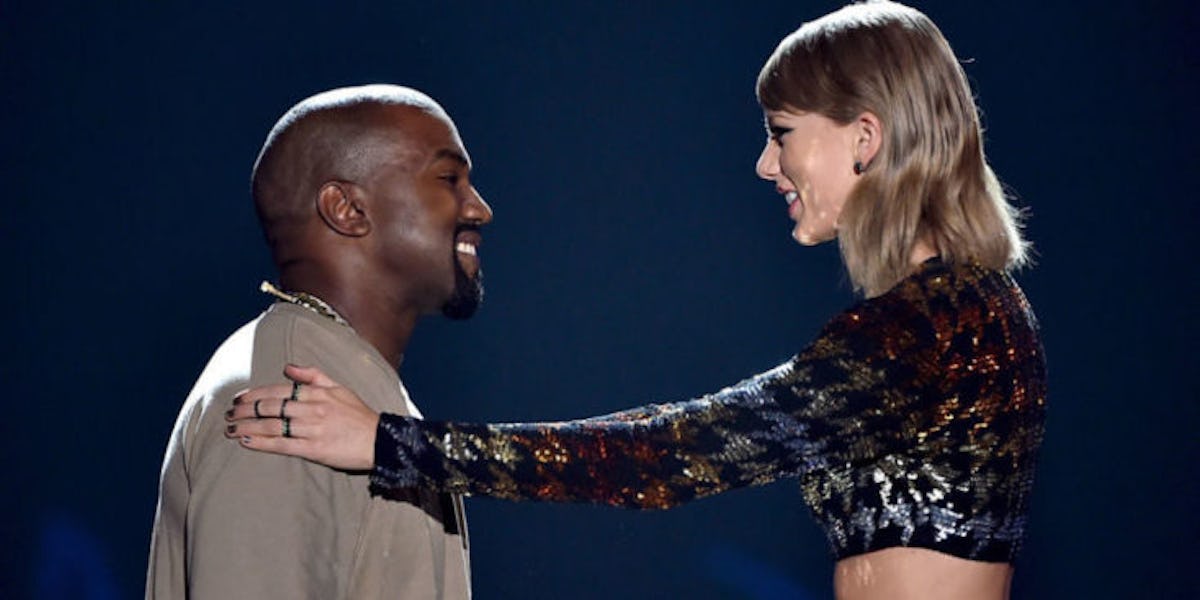 Is Taylor Swift's 'Reputation' Album About Kim Kardashian & Kanye West? Fans Think So
MTV
After wiping her Instagram clean, and posting weird AF videos of snakes for the past two days, Taylor Swift has finally announced the name of her new album. Posing in a grey sweatshirt alongside black and white newsprint, Swift's hair is slicked back (a la Kim Kardashian? Eh?), and the album's title, Reputation appears next to her in gothic lettering. After Swift blessed her fans with the reveal of the announcement of new music, they immediately started to speculate. Is Reputation about Kim and Kanye? Fans are freaking the f*ck out over this one.
There are a few clues here that led fans to this conclusion, but let's recap a little for those of you who may have been above Kim, Kanye, and Taylor drama in a past life, and are just recalibrating your alien frequencies into present day America, where really, there's nothing we should worry about more than TAYLOR SWIFT AND KIM KARDASHIAN'S DRAMA POOL.
Let's dive in. Obviously, it all started in 2009, when Kanye rushed the stage as Taylor Swift accepted her award for Best Female Video at the VMAs. Kanye took the mic from Swift, and claimed "Beyoncé had the best video of all time," leaving Taylor with her signature Taylor stunned face, and the media in outrage over Kanye's interruption.
After a brief reconciliation, the pot was once again stirred as Kanye released his album, Life of Pablo, which featured the infamous lines about T. Swift:
For all my Southside n*gg*s that know me best I feel like me and Taylor might still have sex Why? I made that bitch famous.
A retaliation from Swift, in which she called out "people along the way who try to undercut your success or take credit for your accomplishments and your fame," and a Keeping Up With The Kardashians episode in which Kim called out Swift's "innocent act" later -- and here we are. This is 2017, guys, and the tea is still ripe for the sippin', and KimYe vs. Taylor is alive and well.
Fans quickly took to Twitter with the theory that Reputation is DEFINITELY about Kim Kardashian and Kanye West.
Notice the fans have already changed their Twitter name to Reputation, complete with the slithering green snake emoji.
Even the less die hard fans (i.e., those without snake emojis) are convinced Taylor is "out for blood."
Some are convinced that Taylor won't just stop at Kim and Kanye, but that she's about to spill deets on her relationships as well.
And of course, we wouldn't have Calvin Harris talk without Swift's perhaps most infamous relationship: T. Hiddleston.
But fans are calling out one huge point: Taylor's album font seems to eerily resemble Kanye's Life of Pablo album font.
I mean, if there's anything we can be sure about Miss Swift, it's that she doesn't take to being bullied lightly. If Reputation is about Kim and Kanye, then surely her font choice is not a mistake, the snake imagery is about "snakes" in the industry, and YEP, we can probably expect a retaliation post/song/rap/tweet from KimYe and Co. (Khloe, Kris, Kourtney, Kylie, Kendall, duh) sooner than we think.
Until then, definitely use this time to distract you from the current state of American politics and revel in drama that isn't yours and that you definitely have nothing to do with.
Until the next Trump tweet, we'll all be sittin' pretty over here like...