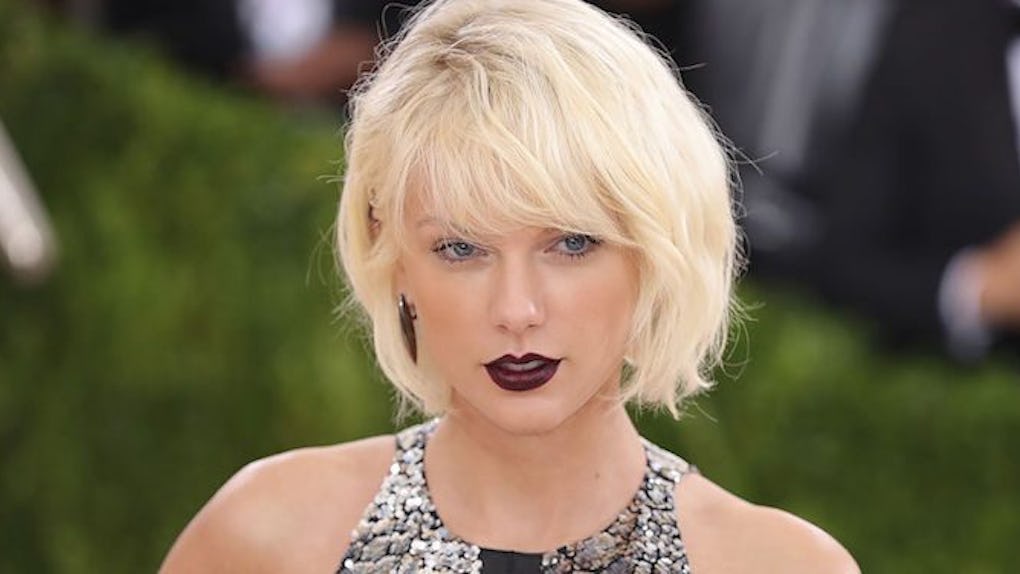 Neilson Barnard / Getty Images
Taylor Swift's "Tilted Stage" Lyric In "Look What You Made Me Do" Is Def About Kanye
If you have a pulse, odds are you've been waiting tirelessly to hear new music from Taylor Swift. Swift stayed true to her name and swiftly dropped her new single called "Look What You Made Me Do" on the evening of Aug. 24. The single has an edgier sound than we're used to hearing from the pop songstress, and fans can't ignore Taylor Swift's "Tilted Stage" lyric about Kanye West. Very shady!
"Look What You Made Me Do" is the new single off of Swift's upcoming album Reputation. Though fans will have to wait until November to hear the full album, they got a taste of the shade with the release of this new single on late on Thursday, Aug. 24. It's evident Swift is going a different direction as an artist with this new sound and even newer album art. Using stark colors like red, white, and black, Taylor is definitely trying to send out a tougher message.
Swifties far and wide are thrilled about the new release, and naturally, they've taken to Twitter to express just how happy they are. However, many of them have pointed out the relation between Taylor's "Tilted Stage" lyrics to Kanye West. If you're a fan of the rapper, you might know that he used a tilted stage during his Saint Pablo tour.
Was that really the best diss, Taylor?
Regardless of the Kanye diss, people are still loving her new song.
"#LookWhatYouMadeMeDo is a bop and that's the tea."
"#LookWhatYouMadeMeDo has already sold 100,000 copies in the US, being out for only a couple of hours. Despacito what?"
"Still. on. repeat. #lookwhatyoumademedo"
Whatever your opinion is on the controversial artist, you can't deny it's nice to hear new music from her since we hadn't heard anything new since 2016. Let's just hope she tones down the shade a bit, because Kanye fans are getting a little frustrated.