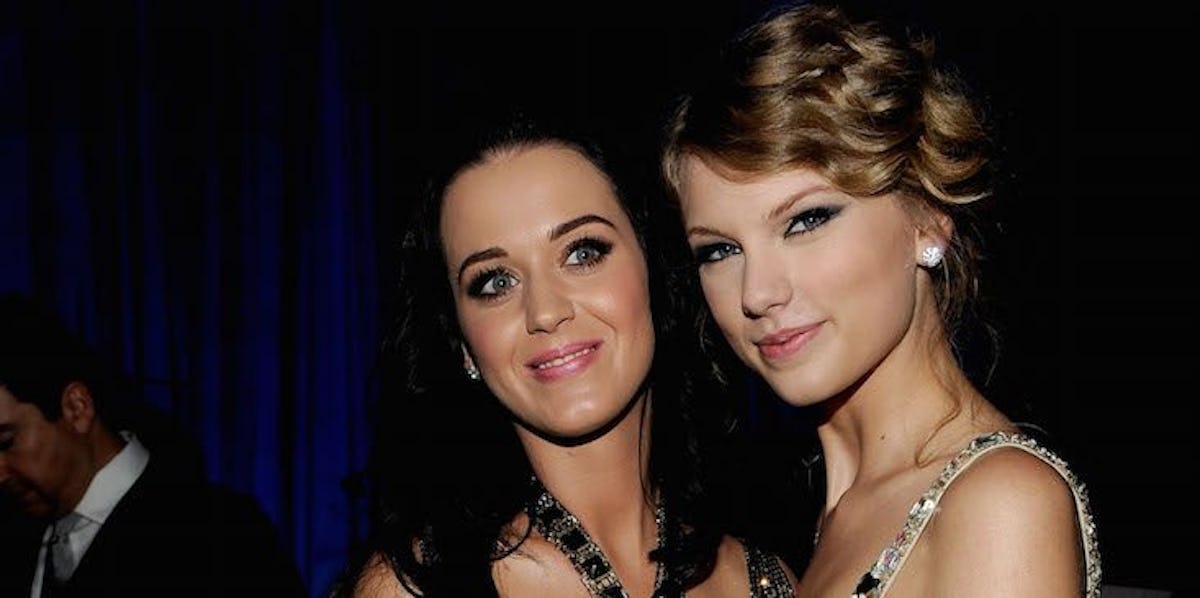 Fans Think Taylor Swift's 'Reputation' Will Be About Katy Perry, So Bring On The Drama
Getty Images
We finally know what all those snake videos on Taylor Swift's social media channels mean: a new album. That's right, Reputation is dropping on Nov. 10, and fans are freaking shook. Her last album was 1989, which came out in 2014, and if you ask me, that means we as a society have gone way too long without new Taylor Swift music. Fans are speculating that Reputation is going to address some feuds Taylor has had over the past few years, namely the one with Katy Perry. Is Reputation about Katy Perry? Lots of people seem to think so.
Taylor Swift's feud with Katy Perry has been going on for what feels like literally ever. The most recent update on the feud comes from Perry's interview with SiriusXM's "The Morning Mash Up" on Monday, Aug. 21. During the interview, Perry said that she doesn't think Swift is interested in making up.
She said,
Listen, I'd love for the beef to end. I'd love to take it off the BBQ. I'm down, but I haven't heard anything of it.
Ouch. All right then.
It's honestly pretty absurd that this beef is still going on, but alas, it is. Taylor Swift and Katy Perry used to be friends, but their feud started over five years ago as a result of some drama with backup dancers, and that's kind of where my interest in it all stops. We've all gotten into fights with our friends, OK? There is no way this is that serious.
Perry has been particularly vocal about wanting to just put this whole thing to rest, discussing the feud in various radio interviews (see the above example) and with James Corden on "Carpool Karaoke." Meanwhile, Swift has been pretty silent about it. Maybe Reputation is the moment she will finally confront it head on. At least, that's what Twitter thinks.
Nov. 10 can't come fast enough.