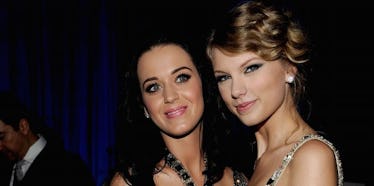 Sorry Everyone, This Katy Perry And Taylor Swift Feud May Never End
Getty Images
This is the drama that refuses to die. Despite months of publicly saying she wants to bury the hatchet with Taylor Swift, Katy Perry and Taylor Swift's feud doesn't seem to have any end in sight, as Perry revealed in a recent interview that she doesn't believe Swift is interested in any kind of reconciliation. The "Swish Swish" singer has been very open about her desire to mend her relationship (or lack thereof) with the "Bad Blood" singer for a while now, but Swift has never indicated that resolving their issues is on her to-do list.
Lots of people were of the opinion that this bad blood would never be resolved, but Perry held out hope. It seems as though that hope is gone now, as Perry said in an interview with SiriusXM's "The Morning Mash Up" on Monday, Aug. 21,
Listen, I'd love for the beef to end. I'd love to take it off the BBQ. I'm down, but I haven't heard anything of it.
Yeah, we'd love for it to end too. It's been five years of this, isn't that enough?! Given this statement from Perry, it doesn't look like the rumors that Swift and Perry are going to reunite at the 2017 VMAs holds any weight.
Perry and Swift's feud started five years ago over some drama about backup dancers, and we're still not hearing the end of it. Perry has been especially vocal about putting an end to all the drama. She's talked about it on James Corden's "Carpool Karaoke," she's talked about it in radio interviews, she talks about it a lot, OK?
And through all of it, she's gotten radio silence from Swift. So at this point, it seems like Perry might need to take the hint. Hopefully, the VMAs rumors are true and Perry and Swift will reunite at the VMAs and the five-year feud will be done, but the odds are looking slim.