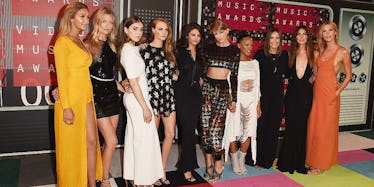 Taylor Swift's Squad Seemingly DGAF About The "LWYMMD" Video, So That's Awkward
Jason Merritt/Getty Images
Taylor Swift has been knee-deep in drama since the release of her new single, "Look What You Made Me Do," and I personally have been loving it, a lot. Who doesn't love Hollywood gossip? There has been lots of speculation about the meaning of T. Swift's new video since its release at the 2017 VMAs. Is it an ode to her former squad? Possibly. Maybe. The only way to know is to study the squad. Be the squad. You are the squad. So how was Taylor Swift's squad's reaction to the "LWYMMD" video? Non-existent.
So far, the only thing I can track are several squad members mentioning T. Swift's new song. Nobody is talking about the music video! What are they thinking?! What's happening? In the video, Swift can be seen wearing a white T-shirt with the names of her current squad members on it. I spotted Selena Gomez, Gigi Hadid, the Haim sisters, Blake Lively, Ryan Reynolds, Lena Dunham, Ed Sheeran, Patrick Stewart, Abigail Anderson, Martha Hunt, Claire Kislinger, and Todrick Hall. Phew, that's a really large friend group. So, what have these squad members said about the new music video? Not much. Not much at all.
HAIM tweeted that they were "dancing around" to the song. No music video mention though.
Martha Hunt loves the new song. What about the new video, Martha?!
Hey, Lena Dunham's dad likes the lyrics!
Even (former?) squad member, Ruby Rose liked the song.
Where on earth is Selena Gomez? Where is Gigi Hadid? Do Swift squad members GAF about her new music? It's a little suspicious, because the new song is all about Swift's reputation. Are the squad members worried their reputation will be tarnished by supporting the song? The mystery continues to unfold. One day we shall find all of the secrets behind the "Look What You Made Me Do" video, and it shall be glorious!