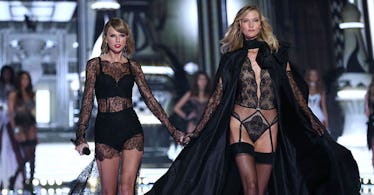 Fans Think Karlie Kloss Is Throwing Shade At Taylor Swift In Pic With Kendall Jenner
Tim P. Whitby/Getty Images
Karlie Kloss has people majorly questioning her loyalty to the squad. After posting pictures with Kendall Jenner on Snapchat, the internet has concerns about her friendship with Taylor Swift.
Being a member of T. Swift's squad comes with major perks. You get to wear matching swimsuits, be in the "Bad Blood" music video, and hang out with a group of overall bad*ss women. However, with that comes big responsibility. You always have to think, W.W.T.D. (What Would Taylor Do?).
What wouldn't Taylor do? Probably pose in a picture with Kendall Jenner.
Here's a quick recap of why: In 2016, Swift and Kim Kardashian were in an epic feud. It was over the release of Kanye West's "Famous" video where he depicted 10 celebs naked, one of which was Taylor Swift. She was freaking pissed, and even used her acceptance speech at the Grammys to tell people about it.
Kim K then put Swift on blast by posting videos of an alleged phone call on Snapchat where Swift gave her consent, which seemingly cleared West of doing anything wrong.
Yo, Imma let you finish, but the #KimExposedTaylorParty was the greatest hashtag of all time.
Kim has openly said on Watch What Happens Live With Andy Cohen that Kendall is not involved with Swift's squad. Plus, if you mess with one Kardashian-Jenner, you get the wrath of all of them.
So, after all this, you can understand why this picture of Karlie Kloss and Kendall Jenner was a real head-scratcher for fans. Kloss isn't just a fleeting part of the squad — she's a founding member. Like, real BFF stuff.
Instead of getting some classic Taylor Swift Fourth of July party fun, photos appeared from a Vogue event in Paris with Kloss and Jenner.
This photo was supposedly taken by Cara Delevingne. *Knife twist*
Although fans were confused, they probably shouldn't be. Kloss and Jenner work together in tons of different fashion events, so it totally makes sense these two are friendly.
Karlie Kloss has wished Kendall a happy birthday in the past (a day early, but whatevs). Cara Delevingne and Jenner are also notoriously great friends. Remember the CaKe tour?
I can't say for sure what's going on in Paris, but far be it from me to stir the pot on this friendship.