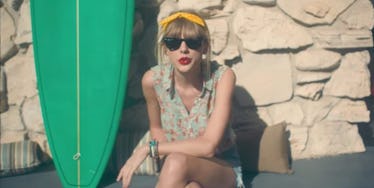 Everyone Wants To Know Where Taylor Swift's Fourth Of July Pics Are
YouTube
While many of us look forward to the fireworks for Fourth of July, another anticipation has swiftly taken its place. Taylor Swift's Fourth of July party has summoned so much attention over the years that some people mark the holiday by it.
The guest list, activities, and outfits are something people look forward to seeing in pictures to top off their own Fourth of July festivities.
So, if you're like many other people playing the waiting game, passing time has not been your friend today.
Oh, the struggle is too real.
And while many of the ones waiting to see the Fourth of July party fun are not invited, they've surely made the picture viewing an annual thing.
I mean, you sort of can't blame them for wanting to live through Taylor Swift's pictures. Her photos in the past, made the holiday celebration seem entirely too fun.
Like most things voiced on social media, people found funny ways to express the "torment" of not knowing if the party was even happening this year.
Pics or it didn't happen, right?
As much as we respect the idea of using our imaginations, Taylor Swift has sadly given us yet another blank space.
Whatever you have to do to cope.
Did I mention how awesome these darn parties look?
I'm sorry but who doesn't want to carelessly slide down water slides in cute matching bathing suits with their friends on the Fourth of July. I'll wait...
Regardless, we can't all afford the dope party T-Swift has been managing to put on, which is why we have to live vicariously through those posted photos.
Sadly, besides pictures, there's no way of even knowing if the tradition continues this year for Taylor Swift. But let us not speak of such things.
For now, we are hopeful that sooner or later, pictures will surface that put our anticipating minds at ease and our in envy in high gear.