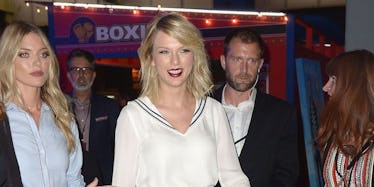 5 Ways To Throw A Ridiculously Fun Fourth Of July Party Like Taylor Swift
Getty Images
Regardless of your personal preference of Taylor Swift, the girl knows how to throw an epic Fourth of July party.
Before your guests' eyes are glued to the fireworks at night, you have to keep the party vibes alive the entire day. So, why not take some pointers from the "Shake It Off" princess herself?
Pictures hardly do justice to the awesomeness Taylor Swift supplied for her Fourth of July parties in the past.
Now, before you turn your mind into a blank space (see what I did there?) thinking about how you'll deliver a great time, and take some awesome tips from Swift.
1. Let Your Outfits Fit Into The Red, White, And Blue Theme
Outfits are essential in almost every holiday party situation. Taylor Swift's matching patriotic swimsuits were a great addition to the celebration... and they made for the best pictures.
And you don't have to have matching bathing suits; some people even had matching American flag onesies for later on in the day.
All in all, you can't go full out on your Fourth of July awesomeness if you don't literally wear it on your sleeve.
2. Don't Be Afraid To Be A Kid Again
Look, you're a super responsible adult all year long. You have to find those little moments in life when it's OK to own your inner childlike adventurousness, spontaneity, and fun.
Taylor Swift's slip 'n slide is a great example of an accessory that will have everyone guest's inner child jumping for joy. Oftentimes, to reach that maximum fun, you have to revert back to those golden years of being carefree.
3. Keep Your #GirlSquad Original
Nothing is worse than feeling the need to go overboard to impress the people you invited.
Surround yourself with the amazing #GirlSquad who creates fun times out of every situation, and will genuinely appreciate the efforts you put into showing them a good time at your party.
4. Consider A Destination Party
No, we can't all afford to have a designated mansion to casually throw a Fourth of July rager at. But hey, let's make the best of the situation. Our minds are the mansion, and we are filling them with epic party ideas.
Changing your setting for the party will get you saddled up for some fun. Whether you can rent a small space on the beach, or just wake up early and claim your space in the park or on the lake, go for it!
5. Be Near Or In The Water
Calvin Harris expierenced Taylor Swift Fourth of July related FOMO, too: https://t.co/dbFzoXIOy1 pic.twitter.com/ijIBU6f4GE — ELLE Magazine (US) (@ELLEmagazine) July 6, 2016
It's time to get wet and wild.
Don't let hosting keep you from the best part of the day -- diving into the ocean. Especially if it's sizzling hot outside, it's essential to place your party on or near a body of water.
Whether you need some liquid courage, or a friendly push, you'll be so glad you took a dip to refresh.
Let your Fourth of July party reflect everything you want to put into the world: fun, originality, and unforgettable memories.