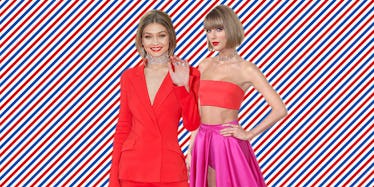 Taylor Swift And Gigi Hadid's Patriotic Bathing Suit Is About To Sell Out
REX/Shutterstock
It's only July 5, and I've already purchased two bathing suits for the summer.
But thanks to the ever-powerful influence of Taylor Swift and her girl gang, I'm about to pull out my credit card and buy another.
Yesterday, Taylor threw what looked like the greatest party of the year (not exaggerating) at her Rhode Island home (yes, the one she bought when she was dating Conor Kennedy).
The guest list included Blake Lively, Ryan Reynolds, Gigi Hadid, Cara Delevingne, Haim, Martha Hunt, Karlie Kloss, Tom Hiddleston (obviously), Ruby Rose, Uzo Aduba and Rachel Platten.
People not invited? Me, you and Selena Gomez.
OK, fine. We don't know for sure Selena wasn't invited, but she skipped Taylor's extravaganza and had her own Fourth of July party.
Don't get too sad, though. Thanks to the highest quality photos I've ever seen, Selena and the rest of us can experience the entire thing -- from the blow-up slides to the picture-perfect, patriotic attire.
According to Fashionista, the It-Girl posse wore Solid and Striped suits on the Fourth, and to be honest, I'm surprised the brand's website hasn't broken yet.
In true fashion, Taylor and the gang shared the photos on Instagram -- because, duh, these are the most Instagrammable bathing suits of all time.
This bathing suit, called The Anne-Marie, is obviously great for group photos.
And it even holds up when you're jumping, sliding and looking effortlessly cool.
Did you make it to the end of this article without ordering it? Yeah, didn't think so.
Citations: TAYLOR SWIFT'S FOURTH OF JULY PARTY WEEKEND WAS BASICALLY A SOLID AND STRIPED AD (Fashionista)