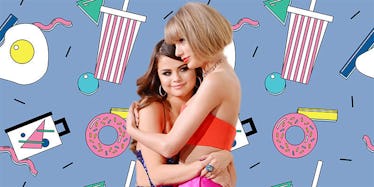 It Looks Like Selena Gomez Threw Major Shade At Taylor Swift This Weekend
REX/Shutterstock
If you haven't noticed, Taylor Swift has a lot of friends. The 1989 singer showed off her gal pals this weekend while celebrating the Fourth of July.
Stars including Blake Lively, Gigi Hadid and more hung out at Taylor's Rhode Island home to go to the beach and watch fireworks.
But one BFF was missing from the party. Selena Gomez was nowhere to be found.
Taylor and Selena are obviously very close, so there must have been a pretty good reason why the two weren't partying together.
Well, according to Selena's Instagram post, it looks like the "Kill Em With Kindness" singer was hosting her own banger.
Yup, Selena Gomez added a video of herself walking through an awesome party and jumping into a pool at the end.
She posted the vid on Instagram and captioned it,
hostess vibes. Happy 4th everyone!
COOL, SELENA. WHERE WAS MY INVITE?
Selena added several Snapchats hanging out with friends and having an awesome time. Below you can hear her crew singing along to Katy Perry.
They even whipped out the sparklers.
BE CAREFUL, YOU GUYS.
It looks like Selena Gomez had a great night, even if she wasn't with BFF Taylor Swift.
I hope everyone's Fourth of July celebrations were as fun as this.  I know mine was because I got to drink beer and eat hot dogs all day. What could be better than that?
Citations: Selena Gomez 4th Of July Party Without Taylor Swift (ET Online)