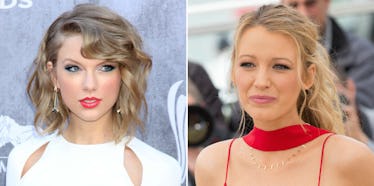 Taylor Swift And Blake Lively's Fourth Of July Photos Will Make You So Jealous
Shutterstock
Taylor Swift is very famous and has very famous friends and a very famous boyfriend. If you don't believe her, just ask Blake Lively's very famous unborn baby.
Tay Tay and Blake spent the Fourth of July full-on frolicking in the ocean with a crew of celebrity friends and loved ones.
Taylor invited Blake and her husband Ryan Reynolds for some super casual wading and climbing to celebrate America's birthday.
Ruby Rose, Gigi Hadid, Karlie Kloss and the rest of the "New Romantics" singer's usual supermodel posse also joined in on the water wading and intermittent photo opportunities.
Taylor's new boyf, Tom Hiddleston, sauntered in at some point in an understated "I <3 TS" tank top to prove, once and for all, he and the pop star are a totally real, legitimate, believable couple.
Model Cara Delevingne, musicians Este Haim and Rachel Platten and "Orange Is The New Black" actress Uzo Aduba showed up in time to watch fireworks in coordinated, patriotic PJs.
These photos had better be a preview of some special edition holiday music video or we Americans have nothing to live for.
Citations: Taylor Swift, Blake Lively, Gigi Hadid, Cara Delevingne & More Get Patriotic for Fireworks on Fourth of July (E! News)