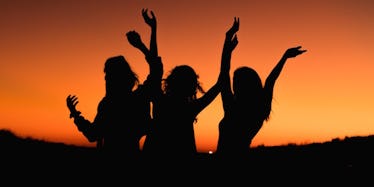 The Ultimate Fourth Of July Playlist For Your Boozy Beach Rager
Levi Guzman/Unsplash
Even before summer decided to show up, you envisioned yourself on the beach, drink in hand, and soaking up the summer rays.
Now, it's time to put some action to your summery thoughts, and get started on those epic festivities.
Not to rush the summer months along, but as June finishes running its course, it's time for the next holiday shenanigans... throwing it down on Fourth of July.
And although the fireworks are responsible for lighting up the sky for the Fourth of July, the speakers need to be gloriously lit as well.
If you need help getting the party started, these songs are sure to get people out of the sand and on their feet.
1.  "This Is How We Do It" by Montell Jordan
Without the old school, there would be no new school.
Maybe the Fourth of July doesn't fall on a Friday this year, but I'm sure your vivid imagination (along with a few drinks) can make any day the gateway to your weekend.
2. "Closer" by The Chainsmokers
OK, this might be a little teeny bopper-ish, but it will get people jumping around reclaiming those carefree summer days.
This season is about temporary liberation from all those subliminal restraints including work and responsibilities.
3. "Bad and Boujee" by Migos ft. Lil Uzi Vert
Expect a couple of spilled drinks for those who get a little too into the chorus.
4. "Despacito" by Luis Fonsi & Daddy Yankee ft. Justin Bieber
Even if you don't know the words exactly, the beat keeps you moving and wishing you could choreograph an awesome routine.
5. "Summertime" by DJ Jazzy Jeff & The Fresh Prince
Throwback alert! The name of the song is a dead giveaway that it needs to be on your summer playlist.
6. "That's What I Like" by Bruno Mars
"Cool jewel be shining so bright. Strawberry champagne on ice. Lucky for you, that's what I like, that's what I like."
7. "Hot In Herre" by Nelly
You know those songs you had no business singing as an adolescent, but they were so catchy? This is one of those. But hey, you're grown now, so enjoy.
Cue the head bobs and synchronized body leans. You just can't control the musical influence of Kung Fu Kenny.
9. "Ride" by Twenty One Pilots
This song pairs perfectly with a sunset. Maybe you can't hitch a ride to the sun, but the song takes you to a place just as enlightening.
10. "Get Low" by Lil Jon & The East Side Boyz
There's not much explaining about this classic. Just do what it says, and get low.
11. "Like Glue" by Sean Paul
I can't even begin to explain the influence Sean Paul's music has on making you dance. Just go with it.
12. "WTF (Where They From)" by Missy Elliott Ft. Pharrell
The world is a much better place since Missy Elliott made her return. There are so many classics, but this more-so recent one is wrapped in summer vibes.
13. "Purple Lamborghini" by Skrillex & Rick Ross
Here's a gem off of the Suicide Squad soundtrack. It's a great mixture of genres and intense buildup.
14. "Ready or Not" by The Fugees
In a lot of ways, these lyrics explain our anticipation for summer.
"Ready or not, here I come, you can't hide. Gonna find you and take it slowly."
15. "Spice Up Your Life" by The Spice Girls
The Spice Girls still (and always will) have a special place in the hearts of many ladies.
16. "Thong Song" by Sisqo
#Classic. Even if you don't condone the wedgie-afflicting underwear, you can't help but sing the words and dance.
17.  "Anaconda" by Nicki Minaj
I had to throw in some Nicki somewhere. This mashup from a classic is the pace you need to keep the energy climbing.
18. "I'm The One" by DJ Khaled ft. Justin Bieber, Quavo, and Chance The Rapper
Maybe you aren't on an island, but the beat of this song will definitely make you feel like you're on one.
19. "Location" by Khalid
This isn't the fastest song, but its slow groove will have you feeling relaxed and content, no matter your location.
20. "Slide" by Calvin Harris ft. Frank Ocean & Migos
Good vibes and sunny skies are all you need to bring to this track.
Every holiday is a good excuse to whip out those songs that perfectly match the mood of the festivities. Take control of your Fourth of July, and dance like no one's watching.