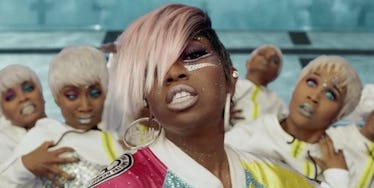 Missy Elliott's New Music Video Proves She's Still Got It At Age 45
YouTube
It's been 20 years since Missy Elliott dropped "Supa Dupa Fly" in 1997, but she's still on top of the goddamn world.
On Wednesday, the 45-year-old rapper surprised fans by quietly dropping a brand new song and video, "I'm Better" ft. Lamb.
Back in November, Missy made her epic comeback with "WTF," featuring Pharrell Williams, which became an instant hit.
It's been over a decade since the original queen of rap dropped an album, but with this second song and video, it seems likely that might change soon.
And by the way, the new song and video is pretty fire.
Like her last video, it's co-directed by Missy herself, which may explain why her videos are so uniquely creative.
And like her last video, every single Missy outfit is a goddamn LOOK. Every. Single. One.
Never have I ever seen a doper 45-year-old.
First look: dark phoenix queen. A supreme ruler feared by all.
Missy, please tell me the secrets of how you get your lipstick to both matte AND shine. Are you a witch?
Next look: '70s punk rocker. Will smoke all your cigarettes and never apologize for it.
I just love that jacket so much?
Bonus: the backside of this jacket.
It says,
I mean, when it's time to rhyme I can get down for mine.
Next look: sparkle princess diva. Perpetually chewing gum and has a bunny ears phone case.
She also probably started watching "My Little Pony" ironically, but then actually got invested in the characters.
Next look: EDM music festival attendee. Will give you the best night of your life, but you won't remember it.
The lights on her lipstick, though! Missy is magical!
And final look: Missy from the block. As fashionable as she is loyal.
Thank you Missy, for continuing to deliver your beauty to us for 20 years.
Citations: Surprise! Missy Elliott has dropped a new song and video, and it's LIT (Hello Giggles)