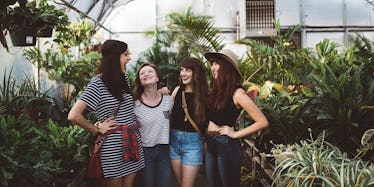 11 Things To Do With Your Friends This Summer When You've Run Out Of Ideas
Brooke Cagle/Unsplash
We all want to have an epic summer for the books with our squad.
I'm sure your calendars are booked up with picnics at the park, beach parties, barbecues, and boozy brunches.
But, most of us get a little too excited and end up crossing everything off our summer bucket lists way too soon... and then we're left with #NoNewPlans.
When you've already accomplished all of your go-to seasonal activities, you might feel as though the summer fun has run dry.
Don't fret, because here are 11 things you can do this summer when your squad has run out of ideas.
1. Weekend Trip To A Neighboring Town
You'll never know all of the fun things that may be chilling next door if you don't check it out. A cool thing to do this summer is to take a weekend road trip to visit a neighboring town.
Eat at all their greatest restaurants, visit their tourist spots, and if it's located along the water... hit up the beach.
2. Bungee Jumping
I assume bungee jumping is on everyone's bucket list, and it will definitely give you a rush.
You may be putting it off until you're not scared of the idea anymore. Pardon the pun, but you have to make the leap, and go for it. This summer is the best time to be spontaneous.
3. Camping Trip
If you're nostalgic for your childhood camp days, you can plan a camping trip with your friends. Nothing will feel more like summer than sitting by the campfire, roasting marshmallows, and telling stories that scare the heck out of you.
You can even go glamping if you're not about getting down and dirty with nature.
4. Guided Tour Of Your Own City
You may have been living in the same city for years, but truly getting to know it through a guided tour is completely different. Get your main girls together, and make a day out of it.
Some cities even have chocolate tours, beer tours, and wine and food tours.
5. Theme Park Day
Plan a trip to your closest theme park. Nothing sounds more fun than rollercoasters, water slides, and cotton candy.
Give me a churro and carousel any day, and I'm one very happy girl.
6. Color Run
Get your friends to all sign up for a run. You could do a color run, or even a glitter run, so you can feel like a princess unicorn while you're running.
You usually get a medal after you cross the finish line, and then why not celebrate over a big brunch?
7. Hot Air Balloon Ride
Nothing sounds dreamier than a hot air balloon ride high up in the blue sky with beautiful views. I mean, there's a reason it feels like every date on The Bachelor includes one.
You'll definitely get some amazing Instagram-worthy pics.
8. Stargazing
Plan a stargazing party with your friends. If you live in the city, find a location just outside that allows you to really see the magic of the sky.
It will be a breathtaking event that you can make even more magical with star-themed cocktails and snacks.
9. Strawberry Picking
You get to keep all of the delicious strawberries you pick, and can use them to bake a lot of yummy desserts you and your friends will enjoy.
Strawberry shortcake, anyone?
10. Outdoor Movie
This is my all-time favorite summer activity. Most cities have outdoor movie screenings in parks. You could even find a drive-in movie theater in a nearby town.
Grab your favorite blankets to lay out. Everyone can plan to bring fun snacks fitting in with the theme of the movie.
11. Camp Out To Enjoy The Sunrise And The Sunset
This would be an all-day event. Commit to seeing the magnificent sunrise and sunset one day.
Find a dreamy place to watch the sunrise, complete with breakfast. Later on in the day, find the best place to watch the day melt into the sunset.