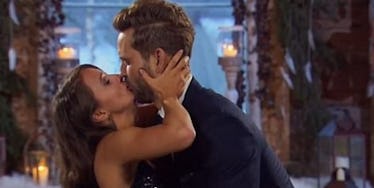 'Bachelor' Nick Viall Reveals Adorable Behind-The-Scenes Dates With Vanessa
ABC
We last saw them during an "awkward" appearance on "The Bachelor: After The Final Rose."
But despite looking like they've made the biggest mistake of their lives, Nick Viall and Vanessa Grimaldi have since assured us everything is rosy, so stop gossiping, OK?!
Anyway, the happy couple is now getting used to being together IRL, which involves actually smiling in public and letting some secrets slip for Bachelor Nation.
Or they're just trying to get fans on their side, seeing as everyone thought Nick should pick Raven.
In an interview with E! News, Nick spilled the beans about how the couple has managed to secretly hang out since filming wrapped — and Nick gave Vanessa a dazzling Neil Lane engagement ring — back in November.
He said,
The show does a great job of trying to get us to see each other. So we got to see each other every two to three weeks for like four to five days at a time. Not ideal, but it was consistent.
That's right, guys, while Corinne distracted us by spraying whipped cream on her boobs, Nick and the winner were having secret date nights right under our noses!
Obviously, their meet-ups had to be meticulously planned so, you know, the entire season of "The Bachelor" wasn't completely ruined. No pressure, guys.
So they spent time at a place Nick described as a "safe house." He added it was "very cloak and dagger the whole time."
Er, romantic.
Nick said,
There's a lot of spending time together, a lot of talking, which is great, and then we cook, we watch TV, we play games, we did some Bob Ross painting. Some of the stresses in "The Bachelor" world as a couple is simply the fear of leaking the truth, like screwing up, accidentally posting a picture that's somehow in your phone, saying the wrong thing, even that has its own burden.
LITERALLY THO, Nick was sitting at home painting with Vanessa, trying not to think back to the crazy days when he dated 30 beautiful women at once.
How does that feel, Nick?
Citations: Nick Viall and Vanessa Grimaldi Reveal the Secret Dates They Went on While The Bachelor Was Airing (E! News)