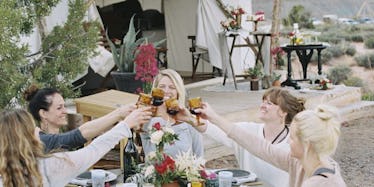 7 Glamping Setups That Will Make You Want To Drop Everything And Travel
REX/Shutterstock
If you're all about being surrounded by picturesque nature, but love the glamorous accommodations that come with a hotel room, glamping is the ultimate retreat to feed your wanderlust.
For those of you unfamiliar with the term "glamping," you're in for a chic treat.
Glamping is exactly what it sounds like: the glamorized version of camping.
It offers all the fun, outdoorsy activities camping does, without having to be squeezed into a sleeping bag or tiny tent.
Whether you're dreaming of spending the weekend in a treehouse, villa or igloo, the choice is all yours.
Glamping has a ton of awesome, exotic options, which you can stay in while soaking up the gorgeous scenery around you.
It has gained so much popularity over the past couple of years, and it's very clear why.
These seven stunning glamping setups will make you want to drop everything and pack your bags ASAP:
This luxurious "five-star tent camp" will make all your ~wildest~ dreams come true.
The remarkable tents and outdoor lounges define rustic beauty, and they look super cozy, too.
Sign up for a horseback riding adventure, or rejuvenate in the resort's hot springs to make the most of this incredible vacation.
2. Pampered Wilderness In Millersylvania State Park, Washington
Can someone say "shabby chic?"
This cabin is complete with a chandelier, canopy and all. As the Instagram user's hilarious sarcasm puts it, "Camping is so uncomfortable."
You'll truly feel pampered in this "canvas cabin" oasis.
Head over to the town of Tenino for a wine tasting, or browse some antique shops.
If you're looking for adventure, the park has a variety of trails. You can even canoe and swim in the Deep Lake.
What's more legit than waking up to this unprecedented view, though?
If this spectacular arctic resort isn't on your bucket list, you need to re-evaluate your priorities and pack your bags ASAP. Sleeping under the Northern Lights in these insane glass igloos is the stuff of dreams.
The resort spotlights husky and reindeer safaris in the winter, along with midnight sun spotting and mountain biking in the summer.
You can even hit up Santa Claus for a visit: He resides in Finland's "largest log building."
This enchanting lodge situated in a rainforest features huts and cottages, in addition to tree houses.
As you can see, they're certainly not your average tree houses, though.
Imagine savoring your breakfast while casually chilling in a rainforest. The views are unreal, and lavish canopies on the decks complete the cherry topping to this retreat.
This glamping resort is my personal favorite. Situated in the heart of the outback, what can get better than booking a trip here?
The 15 luxury tents are truly a sight to see in front of the backdrop of Uluru, a ginormous sandstone rock.
Visit the Field of Light as the sun sets for a luminous, picturesque show in the desert. All your Instagram pictures will be oh so lit.
I can only imagine relaxing on this plush bed elicits such a heavenly view at all times of day.
Give this chick over here a Cosmopolitan to sip and a stylish pair of sunglasses to rock, and she's set for the entire day.
Bring on the stunning tented roofs, and treat yourself to an outdoor dinner while you bask under the canopy of stars.
Treebones Resort boasts the ultimate location of being situated right along the Big Sur coast.
From outdoor fire pits and prime sunset views to focusing the mind, body and soul at the resort's panoramic platform for outdoor yoga class, you'll feel at home in no time.
A glamping getaway will surely satisfy all your needs, whether you make it a girls' weekend, bachelorette party or a romantic stay with that special someone.