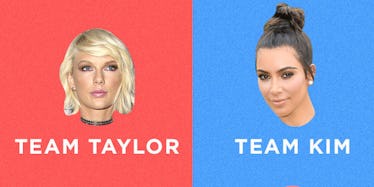 Battle Of The Squads: A Breakdown Of Celebs On Team Taylor Vs. Team Kim
If you've even looked at a screen in the past 24 hours, you should know by now there is some major beef between Kim Kardashian West and Taylor Swift.
Basically, Kim posted some videos of Taylor on Snapchat that seem to prove Tay really did approve that Kanye West lyric from "Famous."
Then Taylor fired back in a note on Instagram saying she never knew the word "bitch" was involved.
But really, this drama goes so much deeper than that. It all started back at the 2009 VMAs, after all.
Then, came the infamous "Famous." Then, we had Tay's shady Grammys speech back in February. And it turns out, Taylor's lawyers have been trying to stop this video from releasing for months.
Look, I don't want to sensationalize anything, but I feel safe in dubbing this THE CELEBRITY BATTLE OF THE DECADE!
*Air horn noises*
As with any good celebrity battle, other celebrities are taking sides. Both parties — Kim and Taylor — boast impressive squads, but Team Kim is taking the lead at the moment.
Here are all the celebrities who have picked a side so far.
Let's meet our players.
IN THE T. SWIFT CORNER...
Selena Gomez
Obviously, Selena's going to side with her BFF on this one. So, she did in a series of vague tweets about how Kim K should use her platform to talk about "more important things."
Though apparently by "more important things," she did not mean the Black Lives Matter movement.
Chloë Grace Moretz
Chloë decided to add her two cents to the matter, echoing Selena's belief Kim should talk about the "real world."
Justin Bieber
J Biebs wins the prize for the weirdest take on the fight, but I'm pretty sure his odd video message of "less hate, more love" was a show of support for Tay.
Martha Hunt
Take interest in the real problems going on. Spread love. — Martha Hunt (@MarthaHunt) July 18, 2016
Victoria's Secret model and Swift Squad member Martha Hunt, who recently shared some details on Hiddleswift, also implored people to care only about "real problems."
IN THE KARDASHIAN WEST CORNER...
Katy Perry
Haha @katyperry I love your pettiness pic.twitter.com/UXXhYaUZEq — Katy's daughter (@KatyCatChloe) July 18, 2016
Katy Perry, a Taylor Swift-feuding veteran, allegedly tweeted out, "Haha," and then quickly deleted it right after the "Keeping Up with the Kardashians" episode aired on Sunday night.
Demi Lovato
It should be no surprise Demi Lovato, who has been known to have her own beef with T-Swizzle in the past, took Kim's side by liking some pro-Kim K tweets. She also apparently unfollowed Selena Gomez on social media after she defended Taylor.
Pharrell Williams
It's a little more surprising Pharrell Williams liked (and then quickly un-liked) this savage anti-Taylor Swift tweet.
Zendaya
Zendaya seems to be officially Team Kimye, since she was liking tweets praising her for not really being a part of the Taylor Squad.
Chris Brown
Unfortunately, Chris Brown loudly and proudly joined Team Kimye by leaving a very off-color comment on Taylor Swift's Instagram post. Oof.
Khloé Kardashian
Obviously, Khloé is with her sister on this one, but she REALLY took it far (perhaps too far) when she tweeted out NSFW pictures of Chloë Grace Moretz after the 19-year-old actress criticized Kim.
Kylie Jenner
Kylie took a slightly chiller approach than her sister and just went with naming her new lip kit "Exposed" -- as in the popular "Kim Exposed Taylor Party" Twitter hashtag.
Gotta love the drama!