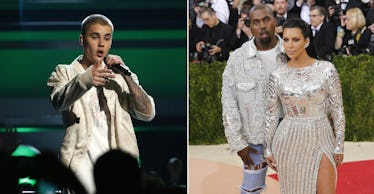 Justin Bieber Just Gave The Weirdest Response To The Taylor Swift-Kim K Drama
REUTERS
Sunday night was filled with some of the craziest celebrity drama I've seen in a long time.
It started when Kim Kardashian leaked footage of a phone call Kanye West had with Taylor Swift about his song "Famous."
In Kim's Snapchats, you can hear the Life of Pablo rapper and 1989 singer discuss the line "I feel like me and Taylor might still have sex."
When the song was released, it came with controversy because according to Taylor's team, the "Shake It Off" singer never approved of the lyrics.
However, Kim Kardashian jumped to her husband's defense to prove Taylor actually did speak with Kanye first.
BUT WAIT. Then Taylor Swift explained she never approved the next line where Kanye refers to her as "that bitch" and takes credit for her fame.
I know, it's a lot to take in. But that's basically just a third of what you missed.
After shit hit the fan, celebrities went to Twitter to take sides. Taylor Swift was hardcore trolled online, so BFF Selena Gomez stood up for her. On Kim's side, her little sis Khloé seemed to have her back.
But now Justin Bieber is chiming in on the drama and um, it's actually pretty weird.
Justin, are you OK? WTF are you doing?
The Purpose singer posted an Instagram video of him looking like Harry Potter whispering stuff to the camera.
In the video you can hear him say,
Less hate, more love.
Except there's a super dramatic pause in the middle and he does some weird shit with his neck.
To be honest, it's kind of creeping me out.
I guess Justin felt the need to intervene because he's got to stand up for his baby-boo Selena now.
Thanks for the words of wisdom, JB. Now go back to sleep.