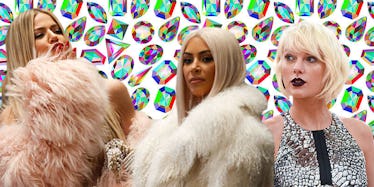 Khloé Kardashian Just Defended Kim By Throwing Major Shade At Taylor Swift
REX/Shutterstock
If you happened to sleep through the drama that unfolded Sunday night, I suggest you take a seat.
After the latest "Keeping Up With The Kardashians" episode, Kim Kardashian leaked footage of a phone call Kanye West had with Taylor Swift about his song "Famous."
The Life of Pablo rapper and 1989 singer have been feuding over these controversial lyrics:
For all my Southside niggas that know me best I feel like me and Taylor might still have sex Why? I made that bitch famous.
Kanye West claimed Taylor Swift gave him full permission to reference her in the song, although Taylor's team seems to disagree with that statement.
Kim has jumped to her husband's defense several times and even called out Taylor for trying to hurt his reputation.
Now sister Khloé Kardashian is chiming in to defend her family. In a series of tweets posted Sunday night, the 32-year-old reality star threw major shade at Taylor.
Here's what went down.
Kim Kardashian first teased fans on Twitter about what might happen on her Snapchat after "KUWTK."
Khloé wanted to check on her big sis to make sure she didn't forget to ruin Taylor's life, I guess.
Then Khloé got distracted. FOCUS, KOKO.
I'm gonna just take a wild guess and assume that's what Khloé is referencing here.
Then she defended her big sis and even threw serious shade at Taylor in the process.
WHAT A NIGHT. On top of that, Taylor Swift actually responded to the drama and gave her side of the story. Yeah, it was an action-packed evening.
In the end, I'm not sure what to believe. All I know is I never want to be on Kim Kardashian's bad side, that's for sure.