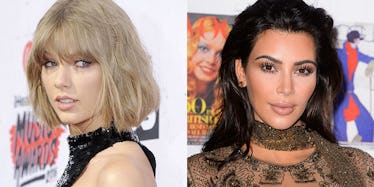 New Details Might Prove Taylor Swift Knew Kim K's Snaps Were Coming All Along
REX/Shutterstock
New details have just been leaked about Taylor Swift's feud with Kim Kardashian and Kanye West.
TMZ reports the 1989 singer knew months ago The Life of Pablo rapper recorded their phone call about "Famous."
The source obtained a letter from Taylor's lawyer that reveals Taylor threatened Kanye West with criminal prosecution.
The letter, which was reportedly sent to Kanye's attorney in February, clarifies secretly recording a telephone conversation is considered a felony. UHHHH, OOPS?
According to TMZ, an except from the letter reads,
Demand is hereby made that you immediately destroy all such recordings, provide us of assurance that this has been done, and also assurance that these recordings have not been previously disseminated.
So this means Tay can sue Kimye for recording and leaking the footage. DRAMA!
There's also something you may not have noticed about Taylor Swift's response to Kim Kardashian's Snapchats.
Last night, the "Shake It Off" singer added this screenshot from her Notes app to defend herself.
However, if you look closely, you can see the "search" link in the upper-left corner.
New York mag points out this small detail may suggest Taylor had her response written earlier in the year and has just been waiting for the right moment to share it.
THAT MEANS SHE POSSIBLY KNEW KIM KARDASHIAN'S SNAPCHATS WERE COMING ALL ALONG.
Well, maybe she didn't exactly know the footage was coming in Snapchat form, but she was certainly prepared to fire back.
I guess we'll see if any other drama unfolds or if things have finally settled down. Hahaha, yeah right.
BRING ON THE HEAT, LADIES.
Citations: Taylor Swift Notes App (NY Mag), Taylor Swift Threatens Criminal Prosecution (TMZ)