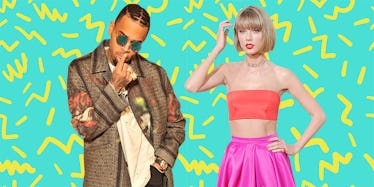 Chris Brown Just Left A Disgusting Comment On Taylor Swift's Instagram
REX/Shutterstocki
Taylor Swift is being slammed online by Twitter users over her latest feud with Kim Kardashian and Kanye West.
The 1989 singer is receiving quite a lot of hate after Kim K leaked footage of a phone call she had with Kanye about the lyrics in "Famous."
In the Snapchats, you can hear Kanye inform Taylor about the line, "I feel like me and Taylor might still have sex," and Taylor calling the lyric "a compliment."
But according to Taylor Swift, these Snapchats do not accurately depict the exchange that happened between the two artists.
After Kim exposed Taylor on social media, the "Bad Blood" singer defended herself on Instagram.
Taylor explained she was unable to approve the entire song because Kanye never played it for her. The part she had issue with was when Kanye referred to her as "that bitch" and took credit for her fame.
But now Chris Brown is stepping in and sharing his (unwanted) opinion on the matter.
A Twitter user was able to screenshot the disgusting comment Chris Brown left on Taylor Swift's Instagram.
Just in case you can't make that out, the comment reads,
Oh NO... Someone said something I don't like,, OUCH, MY PUSSY HURT. Make music and shut the fuck up.
Are you kidding me?
No matter what drama is currently happening in the celebrity world, no one has the right to comment such a gross, misogynistic message on another person's profile.
Chris Brown, if you're going to contaminate the web with sexist trash, then do us all a favor and keep your mouth closed.
In the end, it shouldn't matter if you're Team Kim K or Team Taylor. Let's refrain from speaking to one another with such vile language.
Citations: Chris Brown Comments On Taylor Swift Instagram (Refinery29)