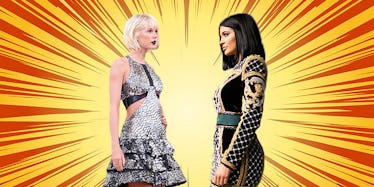 Kylie Jenner's Response To The Kim K-Taylor Swift Feud Was Pure Genius
REX/Shutterstock
Taylor Swift and Kim Kardashian may be fighting right now, but Kylie Jenner just became the real MVP.
If you haven't been on social media lately, let me quickly recap what's going on.
On Sunday night, Kim Kardashian posted video footage of Kanye West's phone call with Taylor Swift where the two discussed his lyrics in the song "Famous."
In the Snapchats, Kanye ran the line, "I feel like me and Taylor might still have sex," by the 1989 singer, and she called the lyric "a compliment."
The two have been fighting over the controversial words for months now, but these videos reveal Kanye did call Taylor about the one line.
However, Taylor's team argues she never approved the part where Kanye calls her "that bitch" and takes credit for her fame. OH.
It looks like fans have mostly sided with Kim K in the fight because the hashtag #KimKExposedTaylorParty was trending on Twitter.
Here's where Kylie Jenner comes in. The 18-year-old reality star has been promoting her new Lip Kit, which coincidentally is called "Exposed."
YOU GUYS, KYLIE JENNER JUST WON THE GAME.
My mind is officially blown.
This is too much for my brain to currently handle.
And it looks like I'm not the only one who's freaking out.
LOLOLOL IS THIS REAL?
Killin' it, Kylie. KILLIN' IT.
I'm screaming at Kylie advertising her Exposed Lip Kit the shade, the shade — Jade Cook (@JadeKardashian_) July 18, 2016