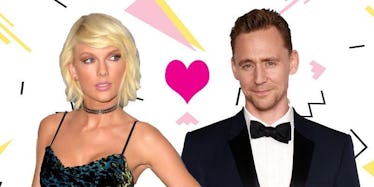 Taylor Swift's BFF Shares New Details About The Hiddleswift Relationship
REX/Shutterstock
"OK! Thanks sooo much for this weekend, you guys! Tom and I are going to go now."
*Taylor Swift and Tom Hiddleston say goodbye to her squad and walk out of the house. Two seconds later Taylor receives a secret letter attached to the leg of a dove. It just says, "We love him."*
OK, maybe that didn't ACTUALLY happen, BUT in my head that's how I imagine most relationships inside Taylor Swift's squad work out.
The gang meets up at some insanely luxurious weekend or holiday retreat with their selected men, they spend their time doing karaoke by a pool and then as they leave, they all take a vote on whether the new guys get to stick around for the next one of these trips.
Squad member and supermodel Martha Hunt got to spend some time with Taylor's new British boy toy over the Fourth of July, and according to a recent interview, Tom is officially Taylor-tested and squad-approved.
Hunt told reporters,
I love that they're both happy and free together. It's amazing. I'm all about people being happy in love.
She went on to say he was also "very charming."
I HEAR WEDDING BELLS!
JKJKJKJKJKJKJKJK, not starting that rumor. Tom already had to deal with enough of that this week.
Citations: Squad Member Martha Hunt Weighs in on Taylor Swift and Tom Hiddleston Being Happy in Love (PEOPLE)