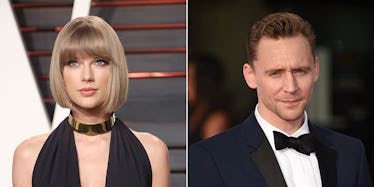 It Looks Like Tom Hiddleston May Already Be Planning A Taylor Swift Proposal
REX/Shutterstock
TAYLOR SWIFT AND TOM HIDDLESTON, CAN YOU GUYS CHILL FOR A SEC?!
Things have been getting very serious between the 1989 singer and "Crimson Peak" actor. The two started dating only a few weeks ago, but the couple are now taking a major step in their relationship.
According to Us Weekly, Tom Hiddleston and Taylor Swift may be tying the knot very soon. LOL, WTF?
The source first commented on how Hiddleston "has been a dream come true" for Swift. The source added,
He's so romantic, classic and chivalrous, and he's doing everything right.
Cool! Good for you, Tom. Now let's fast forward to the real gossip. The insider shared,
Tom is planning to propose very soon.
Is this real life? Are we all just getting punk'd?! I mean, a handful of people do believe Taylor and Tom's relationship isn't real, so this very well could just be a huge publicity stunt.
There's actually quite a lot of evidence to prove the two are just shooting a music video together. But now there's talk of a proposal? I don't even know what to believe anymore.
Taylor and Tom, happy one-month anniversary, I guess?
Citations: Tom Hiddleston Taylor Swift Proposal (Us Weekly)