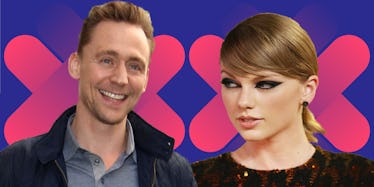 Taylor Swift And Tom Hiddleston Might Be Even More Serious Than We Thought
REX/REUTERS
Woah, Taylor Swift and Tom Hiddleston are apparently taking their relationship to the next level.
The couple has only been together for a few weeks now, but things seem to be moving faster than ever.
A source apparently told E! news the 1989 singer thinks Tom Hiddleston is "husband material." UM, WHAT?
Not too long ago, Taylor Swift said she thinks Tom could be "the one." Now, E! News has exclusive info on their future plans as a couple.
The source shared,
This is the kind of a man she would want to marry. She has said he would make a great dad. They have talked about what they want in the future and kids are something that they would both like down the line. They have very real and serious conversations about life.
MARRIAGE? KIDS? LIFE? WTF, do you even know each other's middle names yet?
The source added,
She has told me that she loves his accent and thinks he is so sexy. He acts very English. He is also a big tea drinker.
OK, fair point. Mr. Hiddleston is a very attractive man. I mean, did you see that photo shoot of him practically naked?
OH, HELLO.
Hiddleswift's PDA has been out of control since the start of their relationship, so many have been questioning if their love is even real.
Like, Tom freakin' wore a shirt that said, "I love T.S." It's either a publicity stunt or a cry for help. WTF IS GOIN' ON, TOM?
Either way, it looks like Taylor and Tom are getting married, having kids and growing old together. Haha, how beautiful. BRB, I'm gonna go cry in the bathroom.
Citations: Taylor Swift Tom Hiddleston Marriage Talk (E Online)