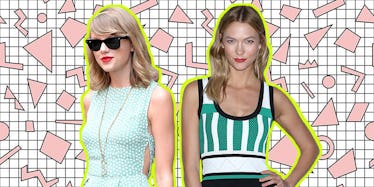 Taylor Swift's Birthday Post To Karlie Kloss Is The Cutest Thing Ever
REX/Shutterstock
Taylor Swift cuddled up to her BFF for a special birthday Instagram post.
No, no, not Kanye West, even though he and Tay Tay low-key share the closest bond of any two friends or siblings or conjoined twins in the history of mankind.
Today, Taylor posted a snap of herself with Karlie Kloss to celebrate the model's 24th birthday.
The pop star gushed over what a "giving, loving… thoughtful" and "exquisite person" KK clearly is.
Taylor's Insta is slowly transitioning into a celebrity birthday dedication page.
Last week, Tay posted a throwback in honor of Selena Gomez's 24th birthday, insisting she "can't imagine" life without the "Kill Em With Kindness" singer.
Either way, Tay is populating her page with positive posts following the notorious screenshot of a note she composed and shared two weeks ago in response to the massive Kimye bombshell.
The only narratives the 26-year-old cares to be included in these days are those of the BFF birthday variety.
Deep down, though, fans are hoping some more "Famous"-centric drama drops leading up to the VMAs on August 28.