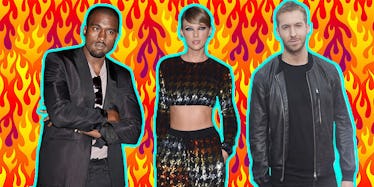 11 Reasons This Year's MTV VMAs Will Be The Most Dramatic One Yet
REX/Shutterstock
It's a crazy time to be alive, people. The MTV Video Music Awards show is quickly approaching, and we don't have much time to mentally prepare.
I've watched the VMAs since I was old enough to follow television, so I have high hope's for this year's shit show.
Every year, it seems like the drama gets more and more intense. Just think about 2015, you guys. Nicki Minaj was ready to destroy Miley Cyrus in front of our eyes.
But no moment has shined brighter in VMAs history than when Kanye West interrupted Taylor Swift's acceptance speech in 2009. Nope, nothing has topped the insanity of that moment.
Until now.
Yup, I'm more than confident this year's Video Music Awards will be the most dramatic yet.
There are a lot of big names up for awards, so you should probably check out the full list of nominees.
But what you should also do is sit back, grab a cocktail and check out the 11 biggest reasons this year's MTV show will be the craziest one yet.
It's time we prepare ourselves for what's to come on August 28.
1. Taylor Swift and Kanye West's feud has reached new heights.
Where do I even begin? T Swift and Kanye have had serious beef since 2009. Fast forward to summer 2016.
After Kanye referenced Taylor in his song "Famous," shit hit the fan.
The 1989 singer was pissed the rapper took credit for her fame and referred to her as "that bitch." But things got even more insane when Kim Kardashian leaked Taylor's phone call with Kanye about the song before it was released.
Kimye and Tay will be reunited at the VMAs for the first time since their feud, and IT'S GONNA GET UGLY.
2. "Famous" is up for Video of the Year.
LOL. On top of that, Kanye's controversial song is up for Video of the Year. What happens if it wins? What will Taylor do?
AND WTF WILL KANYE'S ACCEPTANCE SPEECH BE LIKE?
Oh Jesus.
3. But so is Beyoncé's "Formation."
The drama between Kanye and Taylor started over a Beyoncé music video. Kanye believed Bey's "Single Ladies" should have won Best Female Video over Taylor's "You Belong With Me" back in 2009.
How freaking crazy would it be if things were brought full circle and Kanye West's "Famous" (WHICH IS ABOUT TAYLOR SWIFT) beat Beyoncé's "Formation"?
WTF. THIS IS MESSING WITH MY HEAD.
4. Team Kimye And Team Swift Will 100 percent be in the audience.
After the #KimExposedTaylorParty, celebrities began taking sides in the Taylor-Kimye feud.
Stars like Demi Lovato, Zendaya and Khloé Kardashian became Team Kimye, while Selena Gomez, Chloë Grace Moretz and others were Team Tay.
Obviously the room is going to be filled with opinionated celebs during the VMAs, and I'm sure Selena and Demi will definitely be there.
Will Taylor Swift's BFF have to jump to her defense in front of everyone? I GUESS WE'LL FIND OUT SOON.
5. Calvin Harris and Taylor Swift co-wrote "This Is What You Came For," which is up for a few awards.
"This Is What You Came For" featuring Rihanna is up for Best Male Video and Best Collaboration.
After Taylor's team revealed she helped write the song, Taylor's name was added to the credits.
So what happens if "This Is What You Came For" wins an award? Will Taylor and Calvin accept it together?!
6. Calvin Harris and Taylor Swift broke up and are dating new people.
Calvin and Taylor had a pretty messy breakup back in May. The two don't seem to be on great terms after Calvin went on a crazy Twitter rant about his ex.
But to make matters more complicated, both Calvin and Taylor seemingly have new significant others.
Yup, Taylor is now definitely dating Tom Hiddleston, and Calvin is reportedly dating singer Tinashe. This will be the first awards ceremony where both new couples may make an appearance.
THINK ABOUT ALL THE DRAMA!
7. Taylor Swift isn't up for ANY awards.
LEGIT ZERO. What happened to "Wildest Dreams" and "Out Of The Woods"?
8. But she is rumored to be making new music.
Speaking of Hiddleswift, many fans believe Taylor and Tom's new relationship is just one big publicity stunt.
There are conspiracy theories about how the couple are actually just starring in a music video together.
Taylor Swift hasn't made any new music in, like, two years, so wouldn't the VMAs be the perfect time to drop a new album?
Just sayin'.
9. Justin Bieber is up for some awards, and Selena Gomez will definitely be there.
All right, let's talk about Justin Bieber now.
The Purpose singer has opened up in the past about how a few songs off his album are about ex-girlfriend Selena Gomez. The man is up for some big awards including Video of the Year for "Sorry."
Well, Selena Gomez will DEFINITELY be in the audience. There's probably gonna be so much sexual and emotional tension, we won't be able to handle it.
10. This will be Drake and Rihanna's first red carpet appearance as a couple.
DRAKE AND RIHANNA ARE DATING, Y'ALL. The VMAs will be the first time the two make a red carpet appearance as a couple.
They're probably gonna take so many pics together. And what if "Work" wins for Best Female Video?
Are Drake and Rihanna gonna make out? Is she gonna give a shoutout to her boyfriend?
IT COULD HAPPEN.
11. ALL OF THESE STARS WILL BE IN THE SAME ROOM. TOGETHER.
Here's the best part about the VMAs: Every one of the stars I just mentioned will be in the same room together.
Yup, Kim Kardashian, Taylor Swift, Kanye West, Selena Gomez, Justin Bieber, Demi Lovato, Drake and Rihanna. It's going to be one big party, and I can't wait to see what goes down!
Be sure to follow Elite Daily's VMAs page to get the latest updates on MTV's craziest show. And check out our live-coverage on Elite Daily's Twitter page and Snapchat (EliteDailySnap).
DAMN, August 28 can't come soon enough.