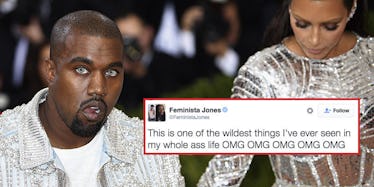 Kanye West Released This New Music Video And People Immediately Freaked Out
REUTERS
Look at what Kanye West is wearing alongside Kim Kardashian in the picture above. Consider the sheer lack of regard for others' opinion it must've taken to wear contacts, a white tee and a bedazzled Balmain jacket on the red carpet with his wife, at the Met Gala, no less.
Now, assume Kanye cared just as much about people's opinions when he made the official video for "Famous," one of the more popular songs from his latest album.
Right.
Seemingly everyone who's seen the video is freaked out.
The video features one bizarre and continuous shot of wax figures representing other celebrities' naked bodies in bed with Kanye and his wife's. Among those in the bed are Taylor Swift, Bill Cosby, Caitlyn Jenner and Kardashian's ex-boyfriend Ray J.
These two tweets show exactly which celebrities are featured, along with an image of the art that might have inspired Kanye's video.
Kanye released the production on Friday night, during a screening at The Forum in Los Angeles.
Here's the full music video.
Kanye West has BROKE THE INTERNET with his strange & controversial new music video for 'Famous'.pic.twitter.com/34ItrbXKLm — Music's Rebellion (@MusicsRebellion) June 25, 2016
Simply put, people were weirded out.
This is one of the wildest things I've ever seen in my whole ass life OMG OMG OMG OMG OMG#TIDALxFAMOUS — Feminista Jones (@FeministaJones) June 25, 2016
Some fans are regarding Kanye's video as another example of his "genius." Others claim the video is charged with disgusting misogyny.
All in all, it's safe to say that Kanye West has stirred the pot again, this time in a much more controversial fashion than usual.
Citations: 10 Hilarious Twitter Reactions To Kanye West "Famous" Video (KidFromThe6ix)