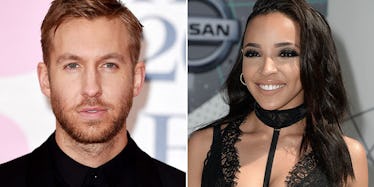 The Calvin Harris And Tinashe Dating Rumors Are True, According To New Pics
REX/Shutterstock
It's official: Calvin Harris is 100 percent over Taylor Swift.
OK, maybe not 100 percent, but he's definitely moved on.
The 32-year-old DJ managed to slither his way out of the crazy celebrity drama that unfolded this week, but now we're bringing him right back into it.
SORRY CALV, WELCOME!
Calvin hasn't been on the best of terms with his ex-girlfriend, but it looks like he's OK with that because a new woman is in his life.
Yup, Calvin Harris was rumored to be dating singer Tinashe earlier this week, but these new pics basically confirm the rumors are true.
The lovebirds were spotted together for the first time since rumors spread about their romance. According to Daily Mail, Calvin and Tinashe were seen going to dinner in LA together.
The two made their way to Soho House in West Hollywood on Thursday evening. Oooh, sounds romantic.
LOOK Y'ALL, EVIDENCE. Calvin Harris and Tinashe are officially an item.
CALVIN AND TINASHE SITTING IN A TREE. K-I-S-S-I-N-G.
According to Twitter, fans are freaking out.
Sorry Taylor Swift, but people are all about Tinvin right now.
If Tinashe and Calvin are really dating I cannot wait for the red carpet couple photos. /p>— golden nugget (@deathbytinashe) July 22, 2016
Calvin, please post pics with your new lady soon!
And Taylor? Um, I'm sorry. Hang in there, girl.
Citations: Calvin Harris And Tinashe Dating (Daily Mail)