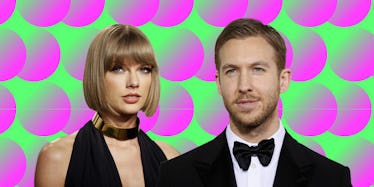 It Looks Like Calvin Harris Is Moving On From Taylor Swift With This Singer
REX/Shutterstock
Man, Taylor Swift is having a rough Monday morning.
The 1989 singer is in the middle of one of the largest celebrity feuds of all time.
Last night, Kim Kardashian leaked footage of a phone call between Taylor and Kanye West about his song "Famous," and now Twitter is turning against Tay.
Yeah, things are getting pretty ugly. There's even a #KimExposedTaylorParty hashtag trending. YIKES.
But on top of everything that happened with the Kardashians, there's more bad news headed her way. Taylor's ex-boyfriend Calvin Harris is reportedly dating another singer.
YUP. ADD THAT TO THE PILE OF CRAP.
According to Daily Mail, the 32-year-old DJ is dating Tinashe, and it looks like the couple already has a nickname: Tinvin. LOL.
An insider spoke with Page Six about the details and revealed Calvin has been "casually" seeing the 23-year-old singer. The insider shared,
They have been seeing each other on the DL. It's only been weeks, so it's still pretty casual right now. They've been on a few dates.
AHHHHH. Sorry Taylor Swift, but it looks like Calvin Harris has officially moved on. HELLO, TINASHE. Welcome to the circle of love.
The former lovebirds don't seem to be on good terms, ever since Calvin lashed out at Taylor for trying to ruin his rep. Yeah, remember that?
Taylor's team revealed she co-wrote his song "This Is What You Came For," and Calvin was not happy. He went on an epic Twitter rant to defend himself and shame Taylor for trying to make him look bad.
Calvin, perhaps you shouldn't get romantically involved with any more singers, since, you know, things didn't go so well last time.
JUST SOME ADVICE FOR YOU, PAL!
Citations: Calvin Harris Dating Tinashe (Daily Mail)