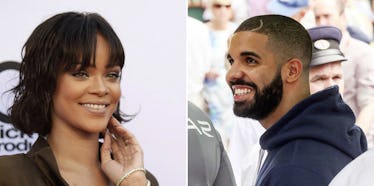 Drake And Rihanna Are Officially Dating And People Couldn't Be Happier
REUTERS / Shutterstock
It's finally happened. After years of extremely sensual and sexual body and eye contact, this is real: Drake and Rihanna are finally officially together.
The vibes between Drake and Rihanna became impossible to ignore after the artists released the music video for "Work," and a couple months after that video came out, Drake called Rihanna "the greatest woman I've ever known in my life."
For the longest time, people thought Drake and Rihanna were dating in secret. Friends just do not grind on friends like Rihanna does to Drake here during her performance of their track, "Work."
Drake later denied on "The Ellen DeGeneres Show" that he and Rihanna were an item in spite of their totally casual grinding, calling their grinding "friendship at its finest."
But I mean, just this week Drake was saying extremely sweet stuff about Rihanna.
Let's face it: Drake has always had a thing for Rihanna, and a report from E! News saying Drake and Rihanna are officially dating just confirms everything everyone already knew.
According to the report, Drake and Rihanna have dated before, but this is the first I'm hearing of them, like, actually going out together.
Rihanna and Drake are an official item, and it is just TOO GOOD. https://t.co/6klV5dFWrh pic.twitter.com/gg0szoazaw — E! News (@enews) July 1, 2016
A source told E! News of Drake and Rihanna,
He still loves her and never stopped. Rihanna is the one that's been not wanting to settle down in the past. They are having fun spending time with each other. Their music together got them close again.
In any case, people on Twitter were absolutely thrilled, and fans tweeted their support, lack of surprise and jokes about the news of Drake and Rihanna dating.
can't believe @rihanna and @Drake are finally together — kylie marie (@kmgg8) July 2, 2016
I'm so happy for Rihanna and drake I think we've all been rooting for them to officially become a couple — alex (@alexdcee) July 2, 2016
Rihanna and drake are officially dating! pic.twitter.com/SRNjuQq4bc — - (@tmbIrpics) July 2, 2016
Omg @rihanna and @Drake are actually dating and I'm in love with their love — PTX_Daily (Updates) (@PTX_Daily) July 2, 2016
But, some people still weren't sure if Drake and Rihanna were truly dating this time.
I'm sure if the relationship is legit it'll either be confirmed or denied by Drake and Rihanna soon enough.
Citations: Rihanna and Drake Are Dating Again: "He Still Loves Her and Never Stopped" (E! News)