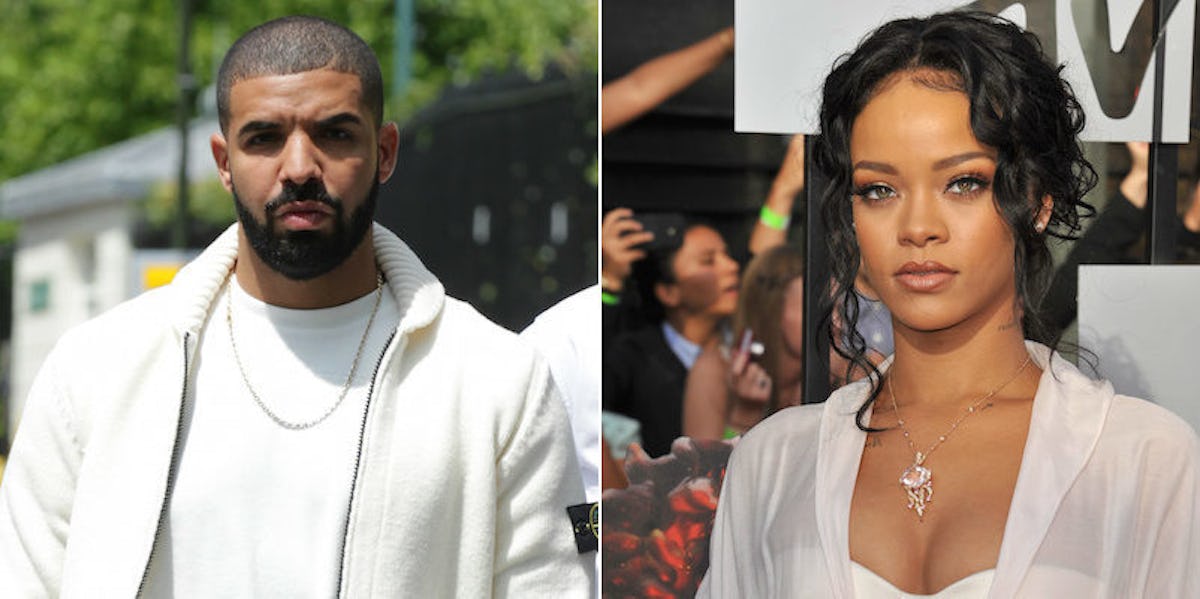 Drake Finally Addresses Those Rumors About Him Dating Rihanna
Shutterstock
Drake is impossibly charming, you guys.
Drake is Ted Bundy, Charles Manson, Jim Jones charming (you know, before all the murders and the massacres).
Drake is also allegedly single.
The "One Dance" rapper appeared on "The Ellen DeGeneres Show" on Tuesday to chat about his new album Views, his hosting gig on last week's episode of "SNL" and his "friendship" with Rihanna.
RT vulture: Watch Rihanna and Drake get their grind on for their first #Work performance: https://t.co/ViBYyHEIu7  pic.twitter.com/M48bKweT8x — HoofitAndDonger (@HoofitAndDonger) February 24, 2016
When Ellen showed Drizzy photos of fellow superstar Rihanna grinding up on him during a performance at an ANTI World Tour show, the host mentioned,
You and Rihanna are friends, and I know that. Just friends. Only friends.
As the audience cheered for the sexy photos plastered on the screen behind Drake and Ellen, the rapper insisted the grinding represented "friendship at its finest."
Ellen replied,
Me and my friends always do that. I was with a friend of mine last week, and we were just like, 'Hey, let's do this!'
Nobody in the audience bought Drake's claims he and RiRi are just pals, but Ellen quickly switched the subject to the Toronto native's first number one hit, "One Dance," in an attempt to shift focus away from Drake's big ole Rihanna-shaped heart.
After the interview, Ellen invited Drake to play a round of Never Have I Ever with Oscar winner/every '90s girl's first love, Jordan Cata— uh, Jared Leto.
Honestly, based on this segment alone, it's pretty clear Jared and Drake could create a wacko, moony cult, and all of us would pack up and move to their creepy compound upstate in, like, two seconds flat.
They're handsome. They're charismatic. They have eyes you just want to trust with your own life and the life of everyone you ever loved.
Oof. Draredism. Feel it. Live it. It's about to be a whole thing.
Citations: Drake Talks SNL, Being Friends With Rihanna, & Plays Never Have I Ever With Jared Leto On Ellen (HotNewHipHop)