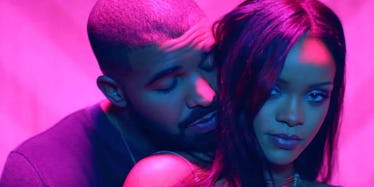 Rihanna And Drake Fuel Dating Rumors With Super Sexy, Flirty Performance
YouTube
You like each other, we all like you together, so what exactly is the holdup, Drake and Rihanna?
Everyone's favorite young, sexy, mononymous superstars have been flirting their butts off since the release of RiRi's "Work" music video, and it's becoming, like, a whole thing.
The pals share a history of rumored dating, but some onstage kissing and grinding at the ANTI World Tour concert in Miami has fans begging for a commitment.
Can Rihanna and Drake date already? pic.twitter.com/ivl65bhnw3 — mean plastic (@meanpIastic) March 16, 2016
Not yet over it don't think anyone is @rihanna X @Drake#ANTIWorldTourpic.twitter.com/wUwdg7WRD4 — BIRTHDAY GIRL (@SadeS2RiRi) March 16, 2016
The precise nature of Drake and Rihanna's relationship is their business, and neither star owes fans an explanation… but… like… JUST GET MARRIED ALREADY AND LIVE-STREAM YOUR WEDDING AND HAVE A MILLION BABIES ASAP.
That's not too much to ask.
Citations: Non-Couple Rihanna and Drake Kiss, Flirt Onstage During the ANTI World Tour (ELLE)