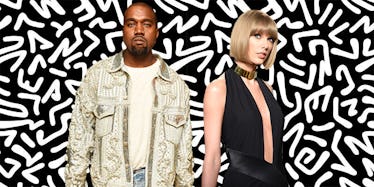 Here's What Taylor Swift Should Do If Kanye West Wins Video Of The Year
REX/Shuttertock
Seven years ago, the MTV Video Music Awards became one of the most infamous awards show broadcasts of all time — OF ALL TIME!
Now, as we wait for the 2016 VMAs to air on August 28, we already know this show is going to be just as crazy. How do we know, you ask?
Uh, only because of a little thing I like to call the ULTIMATE KIMYE v. T SWIFT FEUD 2K16!
In case you haven't heard, Kanye West is nominated for Video of the Year for "Famous."
The very same video Taylor Swift is mad at him over. The very same song Taylor actually approved, according to the Snapchats Kim Kardashian posted.
And the very same Snapchats that led to Taylor pleading on Instagram to be "excluded from this narrative, one that [she] never asked to be a part of, since 2009."
Well, Taylor, here is your chance to bring this whole narrative full circle. Allow me to explain.
The year is 2009. Taylor Swift's "You Belong With Me" wins a VMA for Video of the Year.
Kanye famously interrupted Taylor's speech to say Beyoncé had the best video of all time.
He was referring to Beyoncé's "Single Ladies," which really was iconically great.
Fast-forward to February 2016. Kanye drops his new song "Famous," with a lyric saying he made Taylor famous from that VMA stunt.
A few days later, Taylor wins the Grammy for Album of the Year. She calls out Kanye in her speech for taking credit for her fame.
Months later, Kim posted the video revealing Taylor approved the lyric all along.
Fast-forward to today. Beyoncé is once again up for a VMA for her iconic "Formation" video.
Kanye is also nominated for his controversial "Famous" video.
So, if Kanye wins the VMA, there is only one thing Taylor can do: Interrupt him to say Beyoncé had the best video OF ALL TIME!
BECAUSE, ONCE AGAIN, BEYONCÉ DID HAVE THE BEST MUSIC VIDEO!
Once again, Beyoncé, who always manages to stay out of this celebrity drama and just make incredible music, will likely not get the recognition she deserves.
Even though Taylor didn't get any nominations herself this year, she'll almost definitely be there for a performance.
So c'mon Tay, the world is counting on you. This whole saga can come full circle.
It always comes back to the VMAs. See you all August 28!