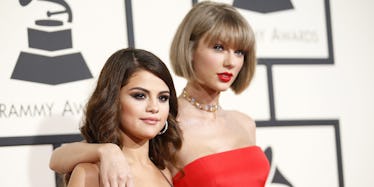 Taylor Swift Just Posted The Sweetest Birthday Message For BFF Selena Gomez
REUTERS
How do you wish your best friends a happy birthday on their special day?
Taylor Swift wished her BFF Selena Gomez a happy birthday in a sweet Instagram post. The singer, who just turned 24 years old, was recently criticized for her thoughts following Kim Kardashian's exposing of Swift regarding Kanye West's controversial "Famous" lyrics.
Gomez defended Swift by dumbing down Kim's stunt, tweeting,
She then went on to say,
And closed out her Pro-Taylor rant with this tweet.
So, how do you wish your BFF a happy birthday after she just threw herself into the fire of the feud for you? A heartwarming Instagram post, of course! Taylor Swift dug up an old photo of her and Selena Gomez forming a heart symbol with both of their hands. The photo captions reads,
Going through old pictures today, because Selena Gomez just turned 24!  I can't imagine my life without you, Selena. Happy birthday!
Here's the post.
Hey, Kanye, at least Taylor knows who her "real friends" are!