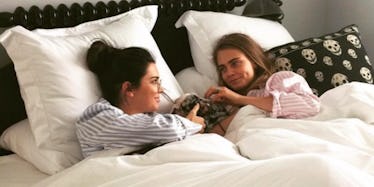 21 Times Kendall Jenner And Cara Delevingne Defined #FriendshipGoals (Photos)
Instagram
Supermodels Kendall Jenner and Cara Delevingne have quite a lot going for them.
In addition to modeling, Kendall stars on the hit TV show "Keeping Up With The Kardashians" while Cara has been carving her path as an emerging actress.
They both also walked at the Chanel Metiers d'art Collection in Austria 2014/2015, which is when their friendship really began to take flight.
Independently, these two women are clearly awesome, but nothing beats when they come together.
Over the years, they've seemed to just get closer and closer, to the point where they've become #friendshipgoals for all of us.
They even dubbed their relationship "CaKe," a shortened version of their names combined, because their friendship deserves to have its own entity.
Yeah, I know. It's goals AF.
To see what I mean, check out 21 of the best CaKe moments below. Their relationship is seriously unreal, so I hope you're prepared to have extreme friendship envy.
Cara and Kendall, thanks for showing us how to do it right. Y'all rock.
1. When they put their faces together to make one single perfect face and told the world they are actual sisters.
2. When Cara held Kendall in her arms and they posed together on the cover of Love making you fall deeper in love with their friendship.
3. There was the time they did another pose but embraced even harder, and it made you explode with jealousy.
4. Or how about when they wore matching PJs, cuddled in bed together and their cuteness destroyed your life.
5. There was the time they wore dorky hats and stared at each other and laughed (the third girl is irrelevant, this moment is all about CaKe).
6. THEY JUST LOVE TO STARE AT EACH OTHER BECAUSE THEY LOVE EACH OTHER SO MUCH.
7. There was that time they hugged like this, and Cara was sad because she couldn't imagine life without Kendall.
8. And there was that time Kendall tried to lick some fries, and couldn't imagine life without Cara.
9. Remember when Kendall opened the door on Cara and she wiped out on the floor?
10. How about when Cara attempted to hold Kendall while hoverboarding, but ended up just falling again?
11. There was that time they got into trouble, but it was OK because they were together.
12. And when they couldn't be together, it was STILL OK BECAUSE CARA INSTAGRAMMED THIS.
13. They even have matching shirts because CaKe is forever.
14. Friendship is licking each other's shoulder and forehead.
15. Friendship is having inside jokes that don't make any sense. (LET ME IN, CAKE, LET ME IN.)
16. Friendship is looking THIS FREAKING FLAWLESS TOGETHER. Just look at how well they complement each other.
17. CaKe, CaKe, CaKe, CaKe, CaKe, CaKe, CaKe.
18. Let's talk about how well Cara fits in with Kendall's family. She's practically blood-related.
19. JUST LOOK. She may as well change her name to "Kara" and make it official.
20. Kendall and Cara also have the same group of friends so they're literally ALWAYS together.
21. CaKe is as perfect as it gets. Plain and simple, no other friendship compares.