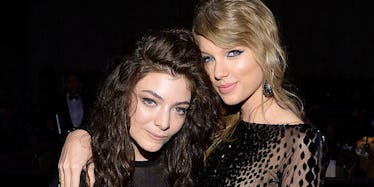 Lorde Threw Shade At Taylor Swift In An Interview, So Say Goodbye To The Squad
Larry Busacca/Getty Images for NARAS
Oh, God. Say it isn't so.
Please don't tell me Lorde isn't actually BFF's with Taylor Swift. IS NOTHING SACRED ANYMORE?!
The "Limelight" singer recently went on the Australian talkshow Sunrise, and said some pretty weird things regarding her squad.
Update: Lorde tweeted the following message clarifying her comments and stating that Taylor Swift is "a dear friend." 
Earlier: I'm not freaking out, you're freaking out – OK?
Her commentary regarding her friendship was confusing, if nothing else, and fans are raising their hands like, "Um, what?"
Here. You guys tell me what you think.
When Lorde was asked about hanging out with her idols like T-Swift and Beyoncé, she gave this weird-*ss response,
The second you think too hard about it, you just start to go insane. So it's best to just be like, 'We're in wonderland, and that's just what happens around here.' Like, also, I don't hang out with these people at all.
Wait. Let's break this down. We could read this two ways.
She, first of all, could have meant it exactly like how it sounds – that she doesn't hang out with Taylor Swift at all. Obviously, this is the more devastating translation.
The alternate option is maybe she was saying as part of her hypothetical "wonderland." Like, it's easier to pretend she isn't part of a super-famous squad to keep herself grounded? Is that right?
LORDE, IS THAT WHAT YOU MEANT? DEAR LORD, LORDE!
Elite Daily reached out to Lorde's team for clarification on the interview, but did not hear back in time of publication.
However, when the interviewer pushed about ~*~*the squad*~*~, Lorde followed up by saying,
You know, you make friends in different places, but I think for the most part I'm not, like, calling my idols for advice necessarily.
All right, well she still called Taylor her idol, so that helps.
More than anything, it sounds like despite their popularized friendship, the truth might be Lorde and Tay-Tay just don't have that much time to actually get together, being mega-celebrities with their own individual, demanding careers and all.
Plus, Swift very recently gave Lorde a big shout out on her Instagram, praising her new album and typing the words, "ELLA I LOVE YOU!"
Don't scare us like that, you guys.