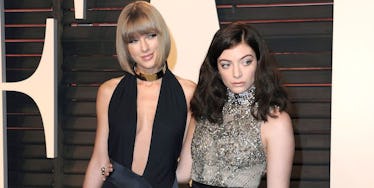 Taylor Swift Is Just As Obsessed With Lorde's New Song As You Are
REX/Shutterstock
Taylor Swift has officially given Lorde the Swiftie Seal of Approval.
After two years, Lorde has finally gotten back to putting out new music.
The 20-year-old vocalist released her newest track "Green Light" yesterday, and if you haven't gotten a chance to listen to it you should probably block four minutes and two seconds out of your day to shove this song into your ears (aka, listen. A very violent way of saying listen).
If you liked that track, you are not alone. Since its release on Thursday it's been listened to more than four million times just on YouTube.
Arguably the most important listen, though, is that done by the queen of the Starbucks lovers herself, Taylor Swift.
Taylor posted the following picture to her Instagram account last night, and without giving too much away, it's safe to assume Lorde's new record is going to do just fine.
WOO! FORMER MRS. HIDDLESWIFT LOVES IT! LORDE CAN SLEEP EASY TONIGHT.
She captioned the post,
g2g brb just gonna make up an interpretive dance to this magnificent bop for the ages ELLA I LOVE YOU
As of press time, the post had over 600,000 likes.
The New Zealand native had been teasing the track's release for a while before the studio officially released the song on Thursday.
Lorde captioned the post,
'Green Light' is officially out in the world, and i am so pleased to share with you that this song is the first from my sophomore record, 'Melodrama.' this is the cover, painted by sam mckinniss. welcome to the new world.
While this is the first song Lorde has released since 2013's Pure Heroine -- the album that featured the mega-hit "Royals" -- she has collaborated on music with other artists over the past few years.
She worked on some music for "The Hunger Games: Mockingjay — Part 1" and more recently helped out Disclosure on "Magnets."
Citations: Taylor Swift Can't Get Over Lorde's New Song (Refinery29)