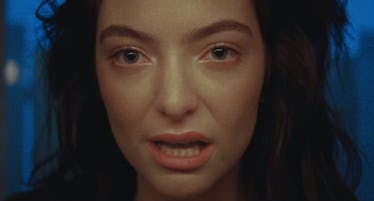 Lorde Released Her First Song In 2 Years And It's The Perfect Breakup Anthem
YouTube
It's been two years since Lorde released any new singles, but now, finally, the wait is over.
After much build-up and anticipation from the 20-year-old singer on Twitter, her new single "Green Light" was released along with a music video on Thursday.
It's the first song from her long-awaited second album. Her first album, Pure Heroine, came out four years ago in 2013. Remember "Royals," you guys? Those were good times.
(She also helped out on "The Hunger Games: Mockingjay — Part 1" soundtrack, but I'm not counting that.)
In addition to dropping the single, Lorde also announced the cover and title of her second album on Instagram: Melodrama.
In the caption, the singer wrote,
'Green Light' is officially out in the world, and i am so pleased to share with you that this song is the first from my sophomore record, 'Melodrama.' this is the cover, painted by sam mckinniss. welcome to the new world.
So here it is: the first Lorde song and video in over two years.
The music video was directed by Grant Singer, who also recently directed Taylor Swift's video for "I Don't Wanna Live Forever," so you may notice some similarities.
It's nice to finally have the full video after all those teasers!
And as for the song itself, it definitely sounds like the Lorde we came to know and love all those years ago, though with perhaps a slightly more mature edge.
Before the song's release, Lorde explained on Twitter how she felt this song differed from her first album.
She wrote,
i am so proud of this song. it's very different, and kinda unexpected. it's complex and funny and sad and joyous and it'll make you DANCE.
She also hinted there was a lot more of this story yet to be told.
She wrote,
it's the first chapter of a story i'm gonna tell you, the story of the last 2 wild, fluorescent years of my life. this is where we begin.
As for the music video, here are a few highlights in case you don't have four minutes to spare.
1. Lorde dances on a car.
Because, like, red lights and green lights? Get it?
2. It turns out the piano player was in the club bathroom with Lorde the whole time.
Not gonna lie, I jumped a little when the camera panned to him.
3. It ends on a pretty sad note, with Lorde looking glum in front of a fence.
Can't wait to see what Lorde gives us next!